Farmbot is recognised as a leader in remote monitoring solutions for the agriculture industry. Our remote monitoring solutions have gained the trust of farmers across Australia and the United States by providing real-time alerts and reporting on water levels and trends. The innovation of these solutions provides farmers with enhanced productivity and profitability through reductions in labour and fuel costs. The need to conduct water inspections have decreased, allowing farmers to allocate their time and resources more efficiently. As water is vital for agricultural endeavours, Farmbot's technology provides farmers with a detailed understanding of water insights, enabling better decision-making regarding resource allocation, and carrying capacities. 
 One of the key aspects of Farmbot's innovation lies in their range of monitoring devices that seamlessly connect to the Farmbot Monitor. This integration enables farmers to remotely monitor various parameters such as water levels, trough conditions, pump operations, diesel levels, rainfall, flow and pressure rates. According to Mr Kettlewell, farmer of Mintor Beef, Tabletop VIC said "without a doubt Farmbot has saved us $10,000 – $15,000 a year. It is nice to be able to go away and have peace of mind knowing water levels from anywhere across the operation." With Farmbots innovative technologies it has impacted farmers enabling them to overcome challenges and foster a more sustainable and productive operation. 
 What sets Farmbot apart from the competition is our real-time alerts, up to the minute reporting and deep understanding of farmers' pain points. Being designed and produced with firsthand experience and knowledge of the agricultural industry gives Farmbot a unique advantage. We have a strong connection to the farming community and a genuine understanding of the challenges faced by farmers in the Australian bush. This allows Farmbot to develop products that specifically address these challenges with simple and easy-to-understand solutions.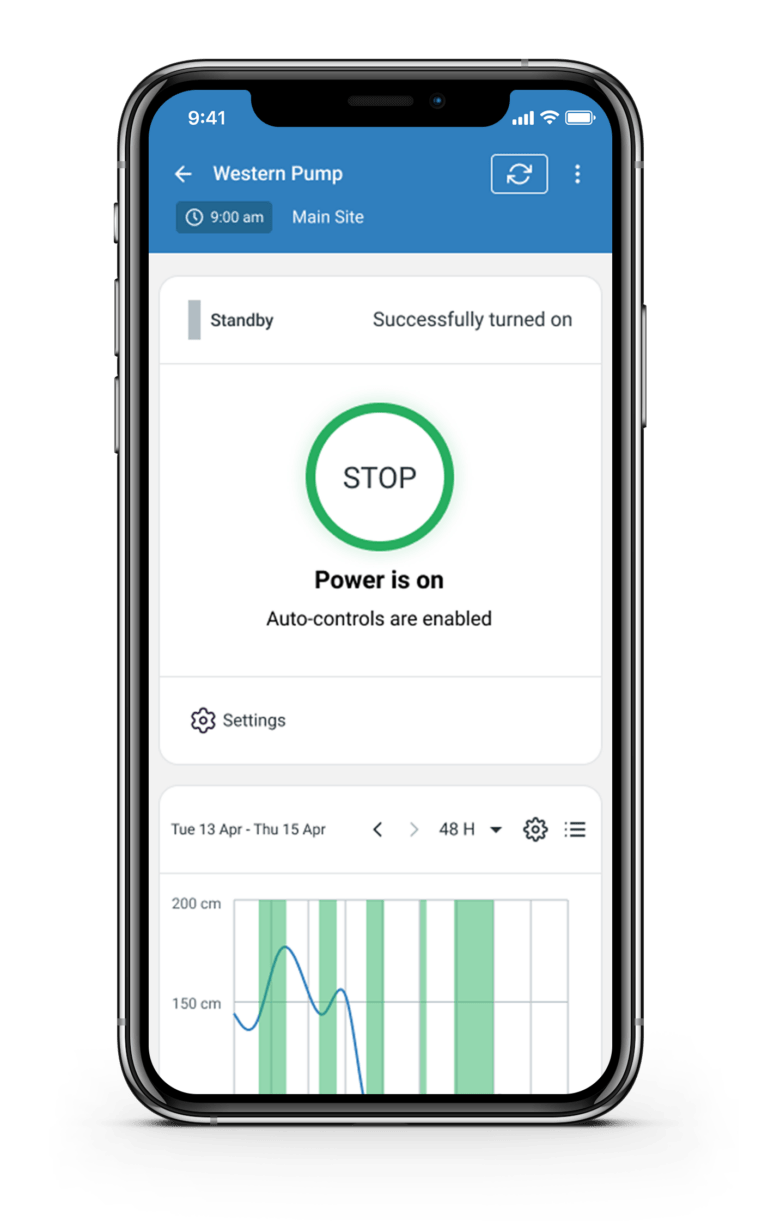 Introducing Pump Control
The business is continually evolving its products to provide precision water management with the most recent release, Farmbot Pump Control. Farmbot recognises the challenge farmers face in maintaining and monitoring their pumps, and seeked to alleviate these issues through automation. The traditional hassle of pump management required farmers to frequently visit their pump sites, resulting in significant time, expense and water waste. Pump Control marks a new era of autonomy and control for farmers, enabling them to make data-driven decisions and improve water use and waste. By reducing the need for physical checks on water pumps and rely on instinct farmers can redirect their time and resources to more critical tasks, addressing staffing challenges and rising fuel costs. This technology not only enhances productivity but also aligns with Farmbot's mission to help farmers effectively manage their resources and farm assets. Pump Control's automation capabilities based on water level are a significant advancement, setting Farmbot's solution apart from others in the industry. By leveraging this technology alongside other innovative solutions, farmers can enhance their operations, increase efficiency, and achieve greater sustainability in their water management practices.
 Since its commercial launch in April 2023, Pump Control has made significant progress. The product has gained traction in the market. Early adoption by farmers demonstrates the value and effectiveness of Pump Control in addressing their needs. Farmbot has actively promoted and showcased Pump Control through its website, at events, through the media and social media. The company has provided detailed information about the product, its features, and the benefits it offers to farmers. This transparent approach helps build trust and awareness. The commercialisation and successful market entry of Pump Control highlight Farmbot's commitment to innovation and meeting the demands of modern farming practices. Overall, the progress made by Farmbot with the launch and adoption of Pump Control demonstrates the startup's ability to develop practical solutions that meet the evolving needs of farmers, contributing to greater efficiency and sustainability in farming operations.
 Our deep understanding of farmers' needs and pain points
Being designed and produced with firsthand experience and knowledge of the agricultural industry gives Farmbot a unique advantage. We have a strong connection to the farming community and a genuine understanding of the challenges faced by farmers across the world. This allows Farmbot to develop products just like Pump Control that specifically address these challenges with simple and easy-to-understand solutions. According to Bruce Nutt, a sheep and beef producer based near Port Augusta; South Australia, "it is one of the best technology decisions I have made." "I have trialed every automation technology you can over the last 40 years, and nothing has come close to Farmbot's pump technology." This customer feedback ensures our solutions are tailored to meet the specific requirements of farmers, resulting in high customer satisfaction. As many farmers work towards automating their operations, Mr Nutt said "Farmbot takes me one step closer."