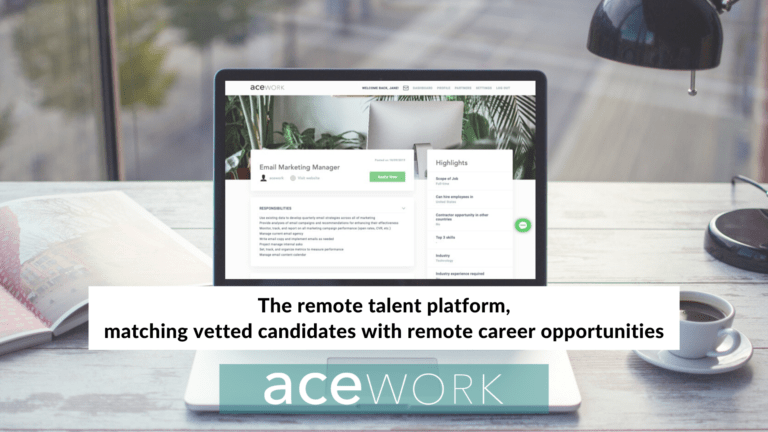 The main problem:
Remote hiring works differently than hiring on-site and is currently highly inefficient. Access to a global talent pool is one of the biggest advantages of hiring remotely, but quality of candidates is notoriously poor when hiring through open job boards. Recruiters and hiring managers then deal with a large number of applications to screen and manage - often resulting in poor candidate experience and long time to hire.

In addition, the best talent is often deterred from applying openly through job boards, because of the large volume of applicants and often lengthy application processes. With applications through career pages and job boards, only 2% of applicants are usually invited to the next step in the hiring process.
The main advantages of the acework platform:

At acework, we support companies by connecting them with relevant, vetted talent across the globe, by matching their exact requirements, such as time zones, countries, languages and of course: skills.
We reach out to top talent outside of remote job boards and remote work community groups. We focus on engaging with top performers and experts in their field, educate them on remote working (if they don't have experience) and vet them directly for remote-readiness before matching them with opportunities.
Our remote-readiness assessment includes a interview as well as reference checks. Once candidates clear our vetting, they are free to easily apply to matching jobs. They apply with their profile, CV and answers to job-specific screening questions.

Companies define screening questions for each position to receive additional information about candidates. They choose to receive the answers in video or written format.

- An acework profile enables companies to quickly decide who to move forward in their hiring process, cutting their time to hire in half.
- It takes about 8 acework matches for the company to fill a position.
- About 60% of acework applicants are invited to interview (normal application process for remote jobs, only 2% are invited)

In addition to our matching platform, we support companies and individuals to move towards flexible working
1. Coaching for candidates
2. Drafting remote work policies for companies
3. Drafting remote-ready job descriptions
4. Supporting benefits at partner companies such as co-working, remote work insurance, productivity tools, work & travel programs.


Find us at www.acework.io!



Steps | Log in -> Vote project -> Vote now -> Confirm Vote -> Be BOLD