Staying connected in this new age starts with a BOLD conversation
Complementary tickets end in....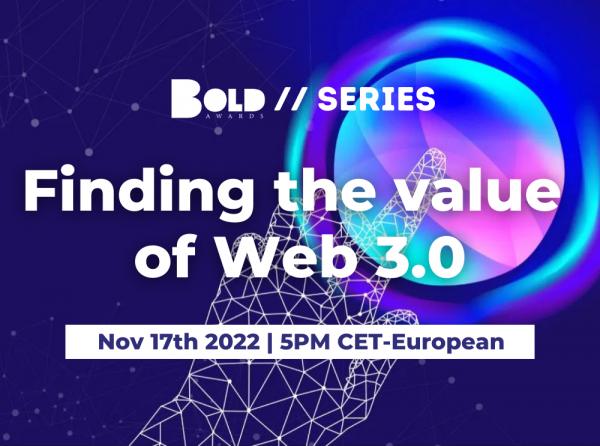 Finding the value of Web 3.0
With all the noise out there, it maybe hard to discern hype from reality when it comes to Web 3.0. Its complexity and the limitations of its current real-world applications have made it difficult for non-techies to understand its value proposition.
This online session aims to explore how the development of Web3.0 will shape society and the economy and how Web 3.0 pioneers are building the future.
Here is what you'll learn:
A lively and challenging analysis of Web 3.0: Blockchain, NFTs, Metaverse, and more
Recent viable use cases of Web 3.0
New ways of collaborating through decentralized autonomous organisations
What might happen in the evolution from Web 2.0 to Web 3.0
We gathered our BOLD Awards pioneers in Web 3.0
Tim is the Co-Founder and CEO of Venly, a developer-friendly blockchain technology provider specialized in Wallet, NFT and Marketplace solutions. He's been passionate about blockchain since 2014 and active since 2016. He's building Venly to help web2 businesses embrace web3 technology as he firmly believes that the way we do business will drastically change due to the innovation. Tim has a Master's degree in Business Science and earned a professional degree in Business Analysis at The Master Labs. He loves to learn, play tennis, share ideas and foster great relationships.
Epi is the Founder & CEO of Crowdsourcing Week, a global platform that is uniting thought leadership on the crowd economy. He is one of the pioneers in the crowdsourcing ad space. Through his work and mission with CSW, Epi has transformed cities, communities and brands across the world.