Staying connected in this new age starts with a BOLD conversation
Complimentary tickets end....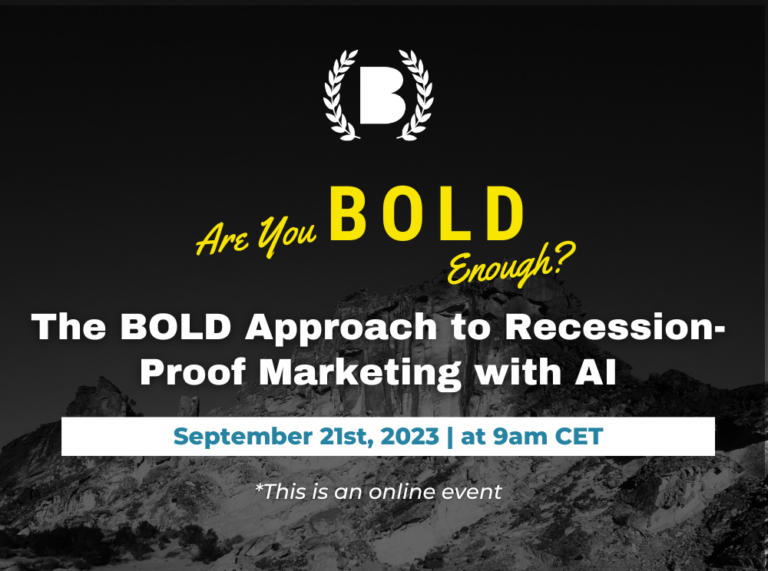 The BOLD Approach to Recession-Proof Marketing with AI
Recession-proof marketing is about being more BOLD. It's about knowing your customer, knowing yourself, and knowing your landscape. It's about using AI to see the signals of a downturn and to build a marketing strategy that can withstand any economic storm.
Are you a Creator?
BOLD is a creative framework that uses AI to help you develop your compelling strategic stories. It's a way to use AI to get time on your side and to create marketing campaigns that are both  effective and efficient.
You will learn:
Learn how to use AI to recession-proof your marketing.
Gain insights into the 4 marketing signals of uncertainty.
Build an AI foundation for your marketing strategy.
Create compelling stories that resonate with your audience.
Streamline your marketing strategy and delivery.
Who Should Attend:
Marketing professionals who want to learn how to use AI to recession-proof their marketing and become better prepared for uncertainty.

Business leaders who want to understand the 4 marketing signals of uncertainty to better manage uncertainty in their landscape.

Anyone who wants to learn how to use AI to create compelling strategic stories with a solid framework.
Event Registration:
To register for the event, please click below.
We hope to see you there!
We gathered our BOLD Awards pioneers in Marketing with AI
Epi is the Founder & CEO of Crowdsourcing Week, a global platform that is uniting thought leadership on the crowd economy. He is one of the pioneers in the crowdsourcing ad space. Through his work and mission with CSW, Epi has transformed cities, communities and brands across the world.

Doyle Buehler is a strategy hacker who helps businesses accelerate profitability and impact in the digital age. He has been involved in online and ecommerce businesses since 2002, and he has a proven track record of success. Doyle's approach is simple but effective. He helps businesses reinvent their online presence and realign their impact by using strategic thinking frameworks and innovative and creative marketing techniques. He is the author of multiple books on digital strategy, and he regularly speaks globally on digital transformation, digital strategy, and marketing.