Revolutionizing Category Management in Retail with AI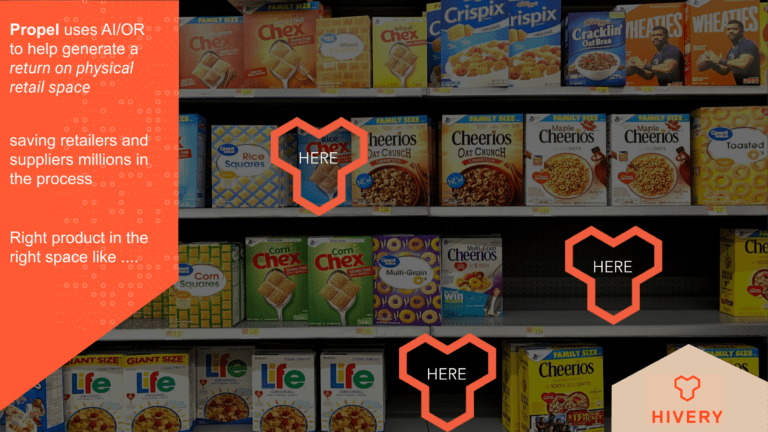 The race for optimal retail space is the most challenging problem in the global consumer retail industry. In fact, optimal shelf space is a US$984bn1 annual opportunity for suppliers and retailers globally given tight margins, smaller store sizes, increasing competition from online and fast-changing consumers. The relationship between retailers and CPGs is all unpinned by one thing: planogram. Yet planogram generation to determine space and assortment is today planned using "clusters" of retail outlets, using location, size or other arbitrary measures. This limits the granularity of what to stock, how much to stock and what to price it wasting stock - their too much supplied or too little (out of stock) not to mention type of assortment. HIVERY is changing this. We generate AI-driven recommendations: right product(s) at the right amount at the right store (specific store) Using AI/ML (artificial intelligence/machine learning), Operations Research (OR) and design thinking, we are able to generate optimised planogram at an individual outlet level.

Propel is the world's first AI category management application. In the words of our customer, The Coca-Cola Company's Group Director - Category Advisory Services: "We are so close to pulling off a major, disruptive innovation in the category management industry". In 2018 pilots, we grew category sales by 7% higher than the rest of the market which remains flat. SAM's machine-drawn planogram design was preferred by a ratio of 2:1 vs those made by human eye/hand (aesthetic). In addition, SAM showed an increase of 50% in the time before the first item goes out of stock vs the current solutions.

We 7 major commercial agreements in place and not even released the product. Currently, to develop planograms for a specific category such as beverages, GPG companies undergo the dreaded planogram "relay". This includes 150 steps, 33 weeks (or 6 months), and 15+ people including the category manager, space and assortment planners. Propel can do this in several minutes, not months. Yes, minutes not months. Further, optimising SKU space and assortment done today is piecemeal and sequentially. Leveraging AI/ML and OR modelling techniques born out of research from labs of Data61 CSIRO (Commonwealth Scientific and Industrial Research Organisation), Propel is able to simultaneously optimise space/assortment while incorporating complex merchandising. brand flow and other business rules. CSIRO is an independent Australian federal government agency responsible for scientific research and invented such technology as Wifi. HIVERY is also backed by The Coca-Cola Company.

Propel is currently being used by The Coca-Cola Company (world's largest beverage/hydration provider), Walmart (arguably is the world's largest brick-and-mortar), MillerCoors (arguably one of the the world's largest brewing company), Red Bull (arguably one of the the world's largest energy drink provider), Hershey (arguably one of the the world's largest confectionery provider) and Unilever (arguably one of the the world's largest CPG) well as Trial: one of the largest brick-and-mortar retailer in Japan. We believe it is just MVP. We have so many other features to release.

Bear in mind, HIVERY is just <5 years old, and 3 of those years has been devoted to research development of the SAM algorithmic model (both machine learning and operations research) and UI.

EVIDENCE OF SUCCESS

Results so far with our customers; we have generated collectively the following financial impact:
● 8-10% increase in revenue p.a.
● 35% improvement in in-store labour productivity
● 30% improvement in category management costs
● Reduces planogram generation from 3 months to 30 minutes.
● Revenue improvement of 3-5% (in declining categories).


Our efforts have also been recognised by several external associations including Winning the Export Council of Australia winning the Technology and Innovation Award in 2019, Business Chamber's Excellence in Export in 2018, Deloitte's Top 500 Technology in 2018 winner, and then Deloitte's Technology Fast 50 finalist in 2019 as well as national finalist representing New South Wales in 57th Australia Export Awards

HIVERY's Propel is posed to revolutionise category management in retail forever. A specific deep industry problem is most unknown, but a multi-billion dollar problem nevertheless. BIG one in the category management space. HIVERY. Data Has A Better Idea.



Steps | Log in -> Vote project -> Vote now -> Confirm Vote -> Be BOLD