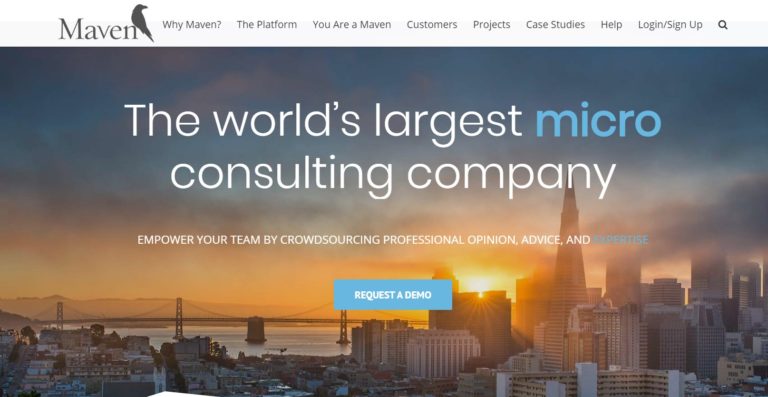 We have spent over 10 years building the world's leading knowledge discovery platform and MASSIVE GLOBAL NETWORK that contains more than 10 billion hours of professional expertise located in over 200 countries. Our technology uses machine learning and algorithms to identify the most appropriate experts in any field, so that our customers can get to the right person, in the shortest amount of time, with the least amount of manual work. Maven provides a unique approach to professional crowdsourcing, based on custom apps, methodologies, and a white glove Customer Advisory Team.  The customer advisory team has helped our customers complete over 10,000 projects with an average feedback rating of 4.5+ / 5. Unlike traditional consulting, our MASSIVE GLOBAL NETWORK contains fully employed professionals, not professional consultants. In addition, because of the efficiencies created by being a technology based solution, Maven is 90% less expensive and 10x faster than traditional consulting. We tell our customers not think of Maven as just the premier solution for primary research, a diy virtual consulting platform or simply as the world's deepest talent bench. We are a whole new paradigm that empowers teams in some of the most complex and challenging businesses on the planet.
Maven provides users on-demand access apps in order to crowdsource professional opinion, expertise, and advise from a massive global network of experts in nearly every discipline. Unlike traditional consulting firms, most of our members are full time employees working in industry, not professional consultants. To drive efficiency of cost, we provide our users apps to interact with our expertise, and our members have signed up to provide expertise by the minute. By using Maven, Intel makes smarter decisions by quickly gaining insights, expertise and opinion from experienced professionals who typically have direct experience.

 Using Maven, Intel has access to the ultimate flex workforce to build the ultimate team.  Why hire 1 person when for the same price you can hire half a million.
Steps | Log in -> Vote project -> Vote now -> Confirm Vote -> Be BOLD