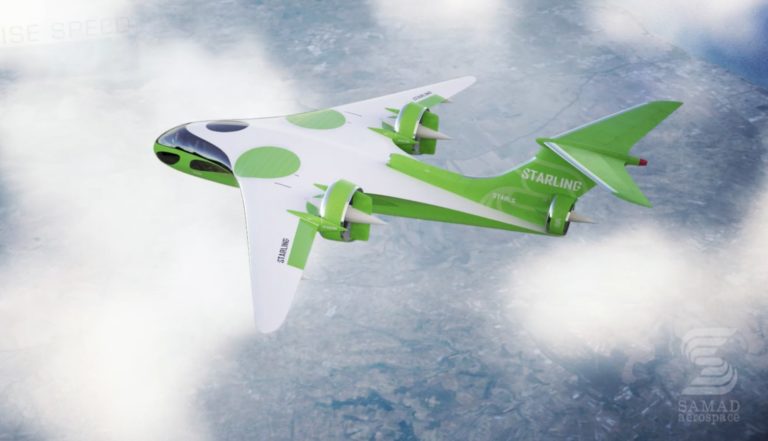 As a response to great market demand Samad Aerospace proposes flying point-to-point from origin to destination in an environment friendly, comfortable and fast medium-range electric VTOL aircraft without the need of airport.
Samad Aerospace has pioneered its ambitious and futuristic project to develop the first vertical take-off and landing passenger aircraft powered by electricity. When this product is launched to the market, it will solve some of the most challenging problems of aviation. Governmental bodies, businesspeople, emergency medical support services, early response forces and all whose time is of outmost importance will have an efficient means of transport to serve the society better without giving any penalty on the environment.
The Hybrid-Electric Vertical Take-Off and Landing (e-VTOL) aircraft that is currently under development by Samad Aerospace, called E-Starling will enable a cleaner way of flying as it uses fully electric propulsion during take-off and landing and over urban areas. The fossil fuel propulsion is only used during high-speed high-altitude cruise whilst recharging batteries as well. Since the take-off and landing will be totally vertical, they can be implemented almost everywhere. The use of more flexible fuels is also predicted in the project in order to extend the range and broaden operational conditions.
e-Starling will provide comfort, range and speed of a business jet plus the flexibility of a helicopter, keeping the maintenance costs as low as a fixed wing aircraft, emitting less carbon as well. As the main outcome of the project is categorized as a business/executive jet, it will mainly serve people whose time loss directly means significant missed opportunities. However, the missions of e-Starling are not to be limited to this. In many situations, saving time is equal to saving lives. Emergency medical support services, early response forces and people who need emergency help and are eventually located in remote places without developed infrastructure, will have an efficient means of transport to serve the society better without giving any penalty on the environment.
This is not all, in addition to benefits that come from the objectives of the E-Starling there are also other aspects. One of the innovations of E-Starling is its hybrid-electric propulsion system, which makes it significantly low emission and less noisy. Clean air is what everyone needs it and whatever can help having more of it is beneficial to all. All of these alongside with less demand to build new runways and new airports, better transport efficiency and less congestion at major hubs will lead to a significant improvement in life quality of people, as E-Starling is commercially available.
Furthermore, this project assures thousands of indirect jobs will be safeguarded through the supply chain and over 50,000 projected job creations is forecasted in the manufacturing of the two and six-seater e-Starling variants. Considerably less emission. There is no existing production aircraft (either fixed wing or helicopter) which has the ability to fly its passengers directly from point A to point B with the same speed, range or operational flexibility as the E-Starling; thereby potentially saving hundreds of working hours per year.
The E-Starling will outperform most direct competitors the light/medium helicopter category.
The technology (VTOL, for example) is not new but the innovation lies in the integration of existing technologies (advanced aerodynamics, autonomy, turbomachinery, power electronics, etc.) in a new application. The innovative aspects of the technical development program have been identified:
1. Unique aerodynamic aspects of the configuration through all flight regimes
2. The control system for stable flight in all flight modes
3. Transitioning flight between vertical and horizontal flight
4. Hybrid turbo-generator/electric powertrain
5. Integration of flexible payload/energy storage
6. Power Failure recovery and payload preservation
Steps | Log in -> Vote project -> Vote now -> Confirm Vote -> Be BOLD