Airbus Open Innovation for developing new Earth Observation services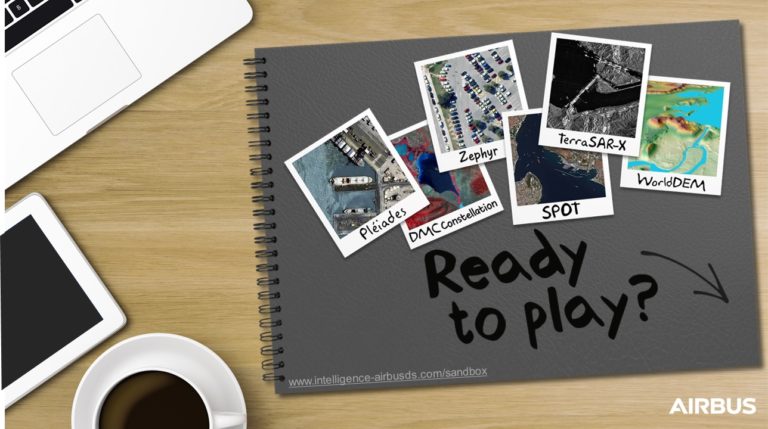 To leverage our Earth Observation satellite data for developing new digital services, attracting additional customers in various markets, and expanding a unique ecosystem of partners around our OneAtlas Digital Platform, Airbus Intelligence www.intelligence-airbusds.com decided to launch a specific Open Innovation Plan in 2017. As part of the Digital Transformation journey of Intelligence, Open Innovation allows us to rapidly develop new products and services with new partners: In one hand, Airbus supports and/or launches challenges and hackathons all around the world to attract potential new services providers not used to work on satellite data (previously perceived as complicated, difficult to access or expensive); In an other hand, by giving access freely and easily to numerous ready-to-use data packs via a dedicated website www.intelligence-airbusds.com/sandbox, start-ups, students, developers or anybody else can access, try and test new applications to be showed to prospects.
These new ideas, based on multi-sources data mix (UAVs, IoT, Social media,…) and/or machine learning algorithms and/or new business models are assessed, filtered and supported by our technical or market experts to make them real. The final goal is to propose more and more value added services to our customers and expand available applications on OneAtlas.
For example, one of our latest challenges consisting of detecting automatically ships on our SPOT satellite images to deliver insights to our customers: this challenge, based on the Kaggle platform https://www.kaggle.com/c/airbus-ship-detection, has been an incredible success with more than 1,800 participants across the world and providing more than 12,000 algorithm code propositions to improve our own OneAtlas Ocean Finder solution.
By definition, this Open Innovation initiative is looking at new products and services which were not developed yet. But on top of that, it also brings new ways of innovating by embracing the power of the crowd with external open challenges: new issues to solve, new technical or business solutions and at the end, new visions on how to bring value on top of Airbus data.
With regular events involving employees from very different teams to assess and support these inputs, it permits to shake internal mindsets by proving the added value of opening our eyes and ears to the external world. This brings a new way of working, enabling us to engage directly with start-ups to benefit from their capabilities and 'quick development' mindset, which helps to change internal (Airbus) mindsets too.
The physical events (hackathons) permitted to meet brand new users of our data too. It pushed the boundaries of user experience by facing new approaches and permitted us to better define how to improve customer experiences.
For the pure technical challenges (ex. Kaggle ), the objective was clearly to improve our current solution thanks to Deep Learning algorithms for automatic detection. The result was above our expectation with winning codes much more performant than ours at the beginning. As a consequence, the quality of our services is enhanced thanks to out-of-Airbus contributions for which we have the right to use for commercial purposes.
The cost has also been a driver to launch some of these challenges: coming back to the Kaggle competition, it wouldn't have been possible to generate as many qualitative propositions in such a short timeframe and for such a small amount purely internally. And it doesn't take into account the indirect benefits of communicating towards this new audience which could become future employees, partners and simple contributors to next generation Earth Observation services.
At the origin of this initiative is our customer satisfaction and how we can better serve them with our data. By deciding not to limit to our own staff the generation of new ideas and services, we open the possibility to find new ways of providing value added services, and especially new ones solving customers' pain points we didn't know out up to now. We can even encourage our own customers to take part of some of these events to explain their needs and foster innovation dedicated to finding them solutions. On top of providing new solutions in partnerships with winners of these challenges, Airbus is clearly demonstrating its willingness to go beyond usual company's boundaries to serve its customers, even if internal resources are not enough.
Even if this was not the first priority, these events are promoting a new image of Airbus towards communities we didn't reach so far: developers, "geeks", start-ups,… As a consequence, this can support HR marketing actions and opening up new sources of employees. A good example is how these events where regularly used on Airbus social media accounts (Airbus Space or Intelligence) to promote Airbus brand.
And finally, one of the best proofs is the relationships and partnerships we built with some of the participants of the challenges which permit us (and them) to generate new revenues with joint approaches.
Please have a look on our wonderful Open Innovation Video and presentation:
https://www.youtube.com/watch?v=NcRNSCywQNE
Steps | Log in -> Vote project -> Vote now -> Confirm Vote -> Be BOLD