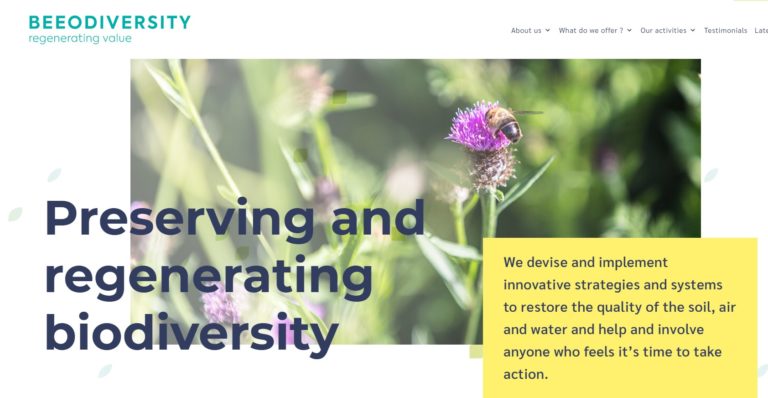 Although pollution and lack of biodiversity are operational, reputational, environmental and financial risks for many sectors (water, food, industry, cities, real estate, public entities) as well as for people, it's difficult for these actors to take improvement actions. One of the main reason thereof, is the lack of precise data and metrics to adopt well-targeted measures. "If you can't measure it, you can't change it" Peter Drucker. In addition, costs of monitoring can be enormous, and local collective engagement is required to overcome these challenges.
BeeOdiversity is commercialising a monitoring device which should meet all these obstacles to meet the necessity of maintaining and regenerating biodiversity.
The BeeOmonitoring system is a combination of bees acting as drones to collect environmental samples and a software processing the data. It is based on over 10 years of scientific research and results from scientific articles validating the activity of bees as bio-indicators.
Bees forage over a radius of 0.5 km to 1.5 km from their hive covering an area of 70 to 700 ha. The bees bring back to the beehive billions of samples of pollen from this area on a daily basis. The pollen is collected via a tool that has been developed by BeeOdiversity. It is then analysed as it captures molecules of soil and air pollutants and contains the DNA of plants.
Through the BeeOmonitoring, companies and public authorities can analyse up to 25 heavy metals, 523 pesticides, PAH, dioxins, furans, PCBs, nitrates, GMO, radio-activity, as well as plant species, their nutritional quality and their interest or risks (e.g. invasive plants, plants indicating fragile ecosystems, etc).
The origin of the pollutants can also be sourced via a mapping tool developed by BeeOdiversity and the processing of the data.
A software has been specifically developed by BeeOdiversity to automatically process the data relating to such analyses and ensure the scalability of the BeeOmonitoring. It avoids any interpretation capacity limitation and enables the deployment of the tool on an unlimited amount of sites. The software provides quantitative metrics (e.g. level of pesticides, amount of plant species, benchmarkings,…) and targeted recommendations to limit pollutants (e.g. alternatives to limit the pesticides representing a risk) and increase biodiversity (e.g. plant specific species to fill the gaps identified by the BeeOmonitoring).
The BeeOmonitoring enables companies and public authorities to (i) monitor the presence, amount and origin of industrial and agricultural pollution, (ii) carry out an inventory of plants at specific periods of the year and assess their quality/diversity through the analysis of pollen, (iii) take proper and informed decisions to reduce pollution and enhance biodiversity based on clear metrics, (iv) follow the impact of the improvement actions implemented and (v) involve local communities in the projects.
BeeOdiversity manages all the steps of the process (beehives' management, collection of samples, analyses, interpretation of data, targeted recommendations).
Steps | Log in -> Vote project -> Vote now -> Confirm Vote -> Be BOLD