The existing big players in the financial services market are all transforming their legacy systems and services to the digital 'always on' new era. Digital natives who have grown up knowing only the online digital world since at least their early teens are able to start with a blank page and embrace – and even create – new technology to deliver faster, better value and more reliable services than the legacy providers. Is it a clash or is there synergy?
It wasn't too long ago that fintechs were met with resistance by banks and the rest of the "financial establishment," and when they achieved widespread traction they were perceived as a threat. Now, there is greater appreciation that fintech startups can build solutions much quicker than if the legacy corporates try to develop them in-house.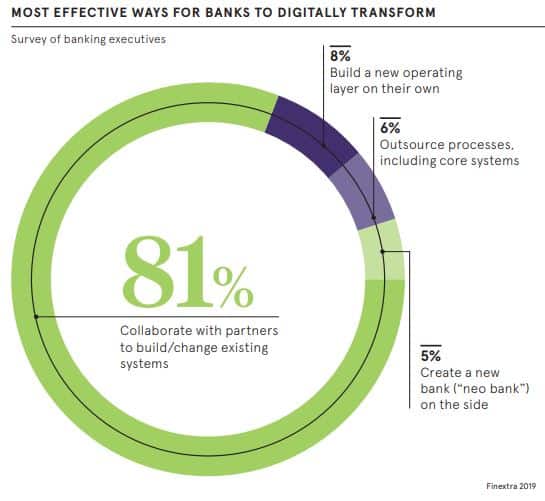 Consequently, many fintech accelerators have been founded by, or are at least significantly backed by, those existing players that include major banks, VCs, and sometimes government-backed business development agencies. Funding fintech accelerators is their means to access a pipeline of innovative startups who are delivering breakthroughs that are perhaps beyond the highly regulated corporate mindset and hierarchical structures of the big players.
What do accelerators provide?
Accelerators provide an attractive package of office space with access to technical resources, expert mentoring, connections to leading actors in financial markets, and even cash to cover living expenses. Gaining a place on a fintech accelerator programme could be compared to winning a prize in an open innovation challenge.
Highly popular
High demand for places on accelerator programmes means in some cases fewer than 1% of applicants are accepted. The accelerator hubs are able to select only the most promising startups that have already moved beyond proof of concept stage to a point of MVP or beta stage prototype, and are on the verge of gaining customer and marketplace traction – and thus an income. The hub 'backers' may also work to an undisclosed agenda of fintech solutions they would prioritise in order to meet any known customer demands.
What a place in an accelerator programme costs
In exchange the accelerator programme providers generally take a slice of equity, commonly between 5% and 8%. They then drive the startup management teams hard on a business development crash-course that aims to bring them in three months to a level that might have taken more like 18 months to reach if they had been left to their own devices.
Fintech accelerator locations
The startups and the accelerators thus exist in a symbiotic relationship and tend to naturally cluster around the main centres of financial expertise. This is where there is a receptive openness that appreciates their aims, availability of an educated and experienced workforce, and an investment ecosystem.
Timetabled formats
A number of accelerator hubs have structured programmes where a cohort of usually ten startups begin together, mentored individually though following a shared timetable. There is a formal application process with deadlines, interim interviews and presentations to give to win a place. Other hubs accept startups joining month-by-month on a rolling basis, and remain flexible to put extra resources in to what they identify as the most promising rising stars.
These are some of the accelerators that provide a formal business development course, usually lasting 12-13 weeks. Inclusion in this article does not mean we consider these fintech accelerators to be the biggest or better than others in Europe, they have been chosen to represent a cross-section of the flexible ways fintech accelerators can operate.
Locations and Accelerator Programme Providers
London
Barclays Bank is definitely part of the financial establishment, it was founded in 1690. Places on Barclays Accelerator are open to technology-focused startups across all aspects of financial services. Applicants can be from anywhere, though must attend the programme in person and thus have the right to remain in the UK.
It is a 13 week course based in central London for ten companies at a time that are likely to "solve real problems or create meaningful innovations." Barclays takes 2% equity in each company, and its funding partner Techstars takes 4% for providing each team with up to $120,000.
Natwest, like Barclays, is one of the UK's main high street banks. The Natwest Fintech Accelerator launched in 2018, and as well as London there are hubs in Bristol, Manchester and Edinburgh. This accelerator provides six month courses and does not take any equity as payment.
London and Amsterdam
Startupbootcamp is an affiliation of 20 accelerator hubs around the world that offer a variety of programmes for different industry sectors. In Europe, its fintech hubs are in London and Amsterdam. In London the sole focus is now on growth stage companies, whereas fintech startups can apply for accelerator programme places in Amsterdam.
Startupbootcamp's fintech programmes are backed by the UK Lloyds Banking Group, the Dutch Rabobank, Mastercard and PwC, among others big players.
Startupbootcamp Amsterdam
The Amsterdam hub provides a three month accelerator programme, with six months use of shared co-working space and access to technical resources, plus each team is given €15,000 in cash to cover living expenses. Programmes conclude with Demo Day, a chance for the startups to showcase themselves to an audience of over 400 investors, partners, mentors, media, and the local ecosystem.
In exchange, Startupbootcamp will require 6%-8% equity in each company accepted on the Amsterdam programme.
Frankfurt
Fintech Europe is an accelerator program launched in 2018 run and operated by Plug and Play Tech Center. It aims "to plug the gap between Silicon Valley and Frankfurt," said Dr Sebastien Schafer, the CEO and Founder. 
It is available to startups from across the world to apply to participate in two batches per year (12 weeks each). The platform offers the corporate partners, who are some of the world's leading players in the financial industry including Deutsche Bank, UniCredit, BNP Paribas, Danske Bank, TechQuartier and several more, opportunities to partner up with the most promising Fintechs. 
The startups do not have to provide any equity, funding comes from corporate sponsors. It also receives support as part of Germany's Digital Hub initiative of the Federal Ministry for Economic Affairs and Energy.
Source: TechQuartier
Lisbon
Beta-i delivers the Lisbon Challenge, a tech oriented accelerator program based in Portugal's capital that provides courses tailored to specific tech sectors including fintech. Their programmes work with 15 startups at a time on a 10 week course which ends with an Investment Day spent pitching to investors. To be selected a startup business must be incorporated in Portugal and at least two co-founders must fully attend the 10 week programme.
To date they have received 4,300 applications from startups to attend, of which they have worked with 210. 105 businesses that completed the programme have received a total investment of €75 million between them, operating in 20 different industries.
Beta-i provides startups with Phase 1 funding in two tranches: €15,000 for 2% equity to all startups joining the programme, and a further €55,000 for 5% after the programme for the startups that have "risen up to the challenge". Beyond this, in a Phase 2 the top five startups are offered a further 6 month incubation period, during which each startup will receive a further investment of €40,000 for 6%-10% equity.
Programme partners include the Lisbon City Council.
Vilnius
Based in the capital city of the Lithuania, Startup Wise Guys has been accelerating startups since 2012, though is only in its third annual round of providing a formal accelerator programme for ten fintech startups at a time.
It operates a two tier system. Startups that have reached MVP stage though do not yet have a marketable product can apply for a 14 week programme and up to €30,000 investment in exchange for 9% equity.
Startups that do have a product can apply for a place on a seven week course and up to €50,000 investment for 9% equity. All companies on either programme must be registered in Lithuania.
Applications open in May each year, and a three day boot camp each September reduces the applicants to 25. The pre-product 14 week accelerator programme runs through October to the end of December. The seven week programme for companies with a product then runs in January and February, after which it formally closes. However, during March and April, on-demand help is still available from mentors.
Stockholm
Stockholm has the highest population of any city in Scandinavia, and 18% of its workforce are in the finance sector. In late September 2019, Findec, a Swedish fintech incubator hub that has supported over 400 startups, announced its first three-month accelerator programme for fintech, regtech and insuretech startups. They are running it with PwC Sweden, and call it The Bonfire. Applicants must be based in Sweden, at a beta product stage ready for the injection of seed funding, and have at least two people working fulltime.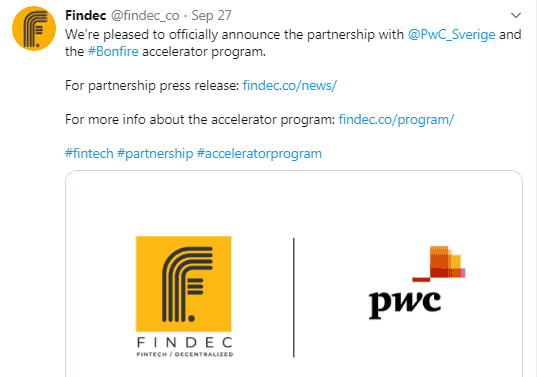 Nordea, which is the largest bank in the Nordic countries, is a second business partner. The Bonfire also has connections with fintech hubs in Norway, Denmark and Finland that in time will be able to filter through their strongest candidates. There is also a tie-up with the Japanese bank Nomura and two Japanese fintech hubs.
Five successful applicants for places in its first cohort have been announced. At this stage, details of the amount and terms of funding that may be available to startups accepted on the programmes are reserved for applicants only.
BOLD Awards 2020
Fintech is one of 12 categories in the annual BOLD Awards 2020. Other categories include AI, Robotics, Science, Space Frontier, Advertising and Marketplaces. The full list, and the place to submit an entry, is here. After a round of public voting in January and then assessment by a panel of international judges, category winners will receive their award at a prestigious black-tie ceremony on March 27th 2020 in Venice, Italy. Good luck!
Main image source: Finextra Retail Banking Technology Report 2019