Staying connected in this new age starts with a BOLD conversation
Complimentary tickets end....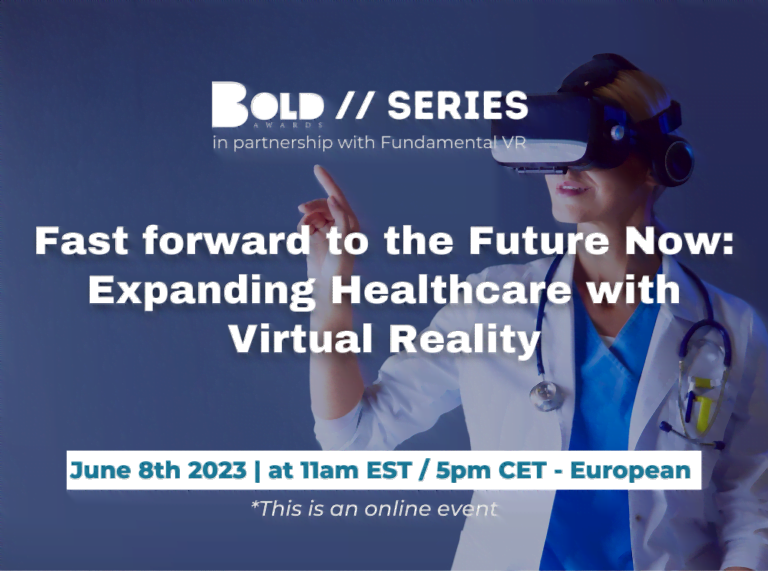 Fast forward to the Future Now: Expanding Healthcare with Virtual Reality
In recent years, virtual reality (VR) has been increasingly applied in various medical settings, from pain management to surgical training. The use of VR in healthcare is a promising field that emphasizes potential benefits such as increased patient engagement, enhanced learning experiences for medical professionals, and improved treatment outcomes.
Moreover, VR technology can also improve the efficiency of medical training for healthcare providers. Medical students can use VR to practice various procedures in a safe, controlled environment without putting patients at risk. This can help to reduce errors and increase confidence among medical professionals.
This #BOLDSeries event aims to explore the various ways in which virtual reality is being used in the healthcare industry and the potential benefits it can offer both patients and healthcare providers.
You will learn about: 
How VR is shaping the future of healthcare and it can benefit both patients and providers alike.

What are the potential improvements in surgical accuracy using HapticVR vs traditional VR vs the traditional approach?

How top surgeons can develop skills to extend medical boundaries through ever-more complex procedures in a time and cost efficient manner.
OTHER POINTS BELOW 
Providing this technology at scale means

the medical simulation market is expected to be worth $4.2 billion by 2025.

HapticVR adds a sense of touch while performing surgical tasks in a virtual environment, enabling better preparation to perform delicate procedures with greater precision and control. 
We gathered our BOLD Awards pioneers in HealthTech
Richard brings 20+ years of experience in building international businesses and has throughout his career sought opportunities for positive market disruption through technological applications. It was this desire that led him to co-found FundamentalVR to help address an age-old problem for the medical market; how to create safe, realistic, measurable spaces to learn, train and develop skills. In his role as CEO Richard is responsible for building a world-class team of medical, learning, and technologists who together can realize the company's ambition of creating the world's first global, haptically enabled, low-cost platform.

Epi is the Founder & CEO of Crowdsourcing Week, a global platform that is uniting thought leadership on the crowd economy. He is one of the pioneers in the crowdsourcing ad space. Through his work and mission with CSW, Epi has transformed cities, communities and brands across the world.

Marc has over 20 years in the medical device industry, with experience to many surgical specialties.  Marc carried the bag for many years, and the foundation of his success was built on the philosophy that building his customers' competence to procedural independence as the keystone to sustained and consistent growth. He transitioned to clinical and professional education to build upon this approach: "The best metric of customer service in the medical device industry is how well your customers are trained.  Virtual platforms will play a critical role with how companies train, develop, and support their customers, so that sales growth is no longer limited to how much geography a rep can cover during work day hours." Marc enjoys taking on innovative/disruptive projects because he believes that the seven deadliest words to any business are "That's the way we've always done it".
Strategic Programs, Clinical Affairs Interventional Urology