Surcle.io is a global crowd-engineering platform enabling corporations, SMEs, and start-ups to scale resources and tackle engineering and hardware challenges within their organizations and product life cycle. It was launched by the online electrical hardware components supply chain provider Sourceability in 2018. It gives their existing clients, plus other new users, opportunities to source not only components but to also crowdsource engineering-related ideas and solutions from either an open or a curated network of sector specialists.
The democratic basis of crowdsourcing through open innovation means that as well as 


established professionals and businesses, freelance engineers and newcomer engineering students or recent engineering graduates who are looking for projects that will help them hone their skills can enter a range of incentivized challenges. This could definitely give their career a boost if they can contribute to an appropriate breakthrough.
Surcle has a short video that shows both sides of the benefits for anyone either setting a challenge or working to resolve one.
If you're majoring in engineering or have recently graduated, and you're looking for a novel way to launch a career in engineering, then you can sign up here as a Solution Provider in Surcle's crowd-engineering network and start entering incentivized engineering-based competitions. If you're an existing business, think of this as an addititon to your new business pipeline.
If you want to launch a challenge, which can also put you in touch with some manufacturers to speed up bringing your product to market as well as with solution providers, you can register here.
What sort of competitions?
Here are two that have recently closed.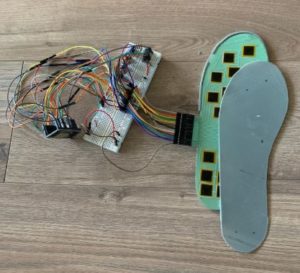 Ukaton was seeking help to shrink a PCB layout to fit inside a shoe to help millions of people improve their posture. SmartShoe Insoles will have three primary functions: a) provide posture analysis and input for VR/AR/XR, b) function as a real-time gait analyzer, and c) serve as a passive and continuous body-weight scale. Submissions needed to be field tested by the deadline for entries of 15 August 2019, though a prize amount had not been set as the startup Ukaton was seeking support from a more-established partner.
Zollner Elektronik AG has launched The Protocol Converter Challenge. It seeks an IoT software solution for a messaging server to deliver seamless communication between any industrial machine and software interface. The goal is to create a middleware IoT device that enables interoperability of various industrial machines, equipment, and workstations on a manufacturing shop floor to support industry's move towards a "smart factory."
After consulting its network of solution providers, Surcle received bids from three reputable engineering firms to take on the project. Furthermore, the competitors estimated they could complete the challenge for anywhere between $20,000 to $35,000.
After an initial two-week software programming phase, the three engineering firms developed 13 software solutions. Surcle ensured they developed their IT protocol converter software with the appropriate discretion via non-disclosure agreements.
The three competitors then spent three weeks developing working prototypes of their machine interoperability systems, and presented the results to Surcle. One didn't make it further, and Surcle presented Zollner with two IoT protocol converter designs to review.
Challenge Outcome
Zollner Elektronik naturally selected the system that best suited the needs of its 19 international worksites. Although it was also the highest priced solution, it was $10,000 under the budget Zollner had initially allocated and it still represented a saving.
Through partnering with Surcle, the German EMS Zollner no longer has to waste valuable time translating data between its equipment. Also, because it is now using a customized solution, it doesn't have to pay licensing fees for a generic third-party product.
New development
In the meantime, Surcle continues to innovate with further developments. One is the launch of its Engineer Matchmaking Feature. This matchmaking service matches Design and Engineering projects with a curated network of firms and professionals possessing appropriate levels of expertise, financial backup, and other key resources required to deliver the envisioned solution within a specified time frame.
Larger projects may be broken down and compartmentalized in an effort to maintain efficiency, while simultaneously decreasing the risk of complications that may prolong delivery time.
Milestones within this service include at least engineering specifications, product wireframes, functional and engineering prototypes, and firmware. Firms and professionals matched to these projects include the expected engineering firms, original design manufacturers, design firms and electronic manufacturing services, though operators in other sectors could also be considered.