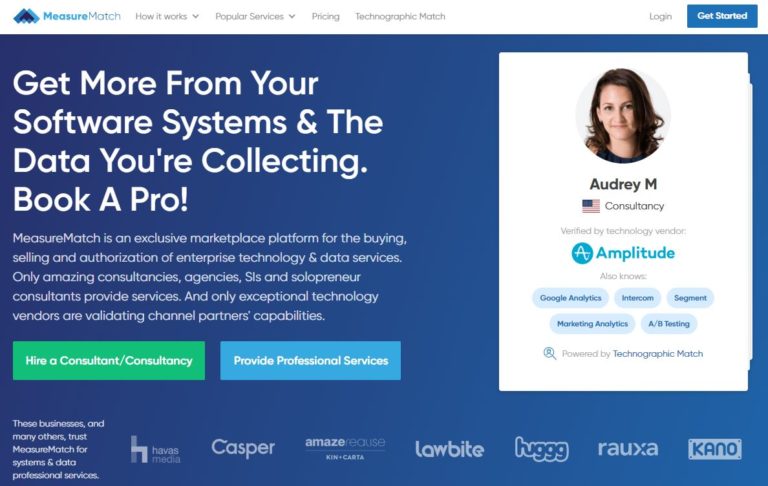 MeasureMatch is on a mission to reinvent the way businesses access and benefit from technology & data professional services. Specifically, we're helping business leaders to rapidly advance their marketing, sales, commerce, customer experience, service and related analytics capabilities.

We are serving the needs of businesses in a $100+ billion global market.

Specifically, MeasureMatch is a marketplace platform where business leaders and service providers meet, talk, enter into service contracts and get important systems and data execution work done faster. Project work. Remote work. Implementation work. Configuration work. Integration work. Troubleshooting work. Valuable work. Fast.

Our end-to-end platform provides business leaders globally with direct, seamless and flexible access to a highly-skilled, liquid and verified workforce of independent business software applications solutions engineers (not software developers) and related data management and data science professionals. The future of competitive advantage is on-demand and platform-driven.It's ok

to comparatively think of Uber or Airbnb or Helpling or TaskRabbit. We support the matching of supply with demand similarly, all the way through to contract management, payment processing, ratings and written reviews.

But that's where the comparison ends.

From quick-win data analysis or technology implementation tasks to data pipeline solutions and enterprise-scale systems integration projects, MeasureMatch Experts are directly at your fingertips.

Clients turn to MeasureMatch to get important marketing, commerce, customer experience (CX) and a growing range of large and small scale project work done faster and better than ever before.

MeasureMatch Experts are highly skilled and certified independent consultants, agencies, consultancies and sytems integrators of all shapes and sizes, and they are directly accessible to quickly, easily and cost effectively address the most pressing technology, data and analytics challenges today.
Steps | Log in -> Vote project -> Vote now -> Confirm Vote -> Be BOLD