Deere & Company, which trades as John Deere and uses a leaping deer logo, is a world leader in providing advanced heavy duty machinery, plus related technology and financial services. It serves customers whose work is revolutionizing agriculture and construction to meet the


world's increasing need for food, fuel, shelter and infrastructure. In 2022 it ranked 84th in the Fortune 500. John Deere is the world's biggest manufacturer of tractors and farm machinery, with a vision of fully automated, autonomous agriculture. Yet its origin dates back to a blacksmith in an early 19th century US recession. Economic hardship forced John Deere, a blacksmith by trade, to leave his family in the north eastern state of Vermont while he explored opportunities in the expanding development of the country's western territories. Here's how he created, and set the standards to live up to for the global corporation that today is valued at over $130 billion.
Founded in dark days
It's very relevant to understand the context of the economic turmoil that John Deere was caught in. Today we live in an age where critics of cryptocurrency (including many of the "financial establishment") claim it is worthless, not pegged to the value of anything, and has no underlying or inherent value. John Deere lived in an age when dollars were still tied to the value of gold, which actually proved to be the downfall of the economy at the time.
Years of a US trading surplus in the early 1830s increased the country's gold reserves. This gave the country's separate 850 banks confidence to print and circulate more paper money. Today it might be called Quantitative Easing. With no oversight by a central bank like today's Federal Reserve, the US money supply grew 30% from 1834 to 1836. This was far more than the growth rate of GDP (Gross Domestic Product), despite the boost of millions of new immigrants every year. The result was inflation. Loans were easily available, and property prices ballooned before they crashed, which sounds rather similar to the US sub-prime mortgage lending debacle that became the global 2008/9 Financial Crash.
The United States' trading partners lost confidence in paper money and required more secure forms of payment. Also, the cotton price collapsed due to global competition when the main customer, England, began to buy from Egypt and India. At the same time, the US suffered poor harvests of other crops. The country's economy was still mainly agricultural, and the overall level of domestic trade fell by 15%-20%. It reached a point where panic set in among the general public. A run on the banks, called The Panic of 1837, caused many of them to shutter. A huge number of people lost their savings, jobs, and homes.
During this economic decline, many, including blacksmith John Deere, were forced west to seek new opportunities.
A new challenge in Illinois
Deere established himself in Grand Detour, Illinois. He soon realized that despite their hard work, the farmers in his community were not having much success. The sticky soil of Illinois has a high clay content, and presented a more difficult challenge than sandier soil that many were previously used to. Farmers had to stop and scrape the sticky soil off their cast-iron plows after every few feet of progress, which meant a lot more work and time taken to achieve less.
Deere spotted his market opportunity. He believed plows of a different material and shape could solve the problem. He found a broken steel sawblade and reshaped it, paying great attention to its curvature. It proved a success in the sticky soil, and nothing was ever the same again for either the farmers or for John Deere.  
The start of a John Deere dynasty
From this single innovation, John Deere built a business to keep refining the product and retain its relevance and usefulness to farmers. It's a business development plan many startups follow today: develop a new product, achieve initial sales income, provide proof of concept to future investors, and plan to continue growing. Following the same template, some of today's agtech startups are using crowdfunding to build awareness, provide proof of concept plus customer traction for a new product, and then seek institutional investment to grow a business.
Through continued research and development, crowdsourced customer feedback, and plain hard work, John Deere's business blossomed. Up to 1848 he had imported English steel, and had been producing around 2,000 plows a year. Around 1849 he began to use American-made steel, moved to larger premises, and upped production at his new premises to around 13,000 plows a year by 1856.
He remained in control of the business until 1886, a remarkable 49 years. Following him, three further generations of the family ran John Deere's business until 1982. This means it was family-run by just four men, who provided consistently innovative leadership, for 145 years.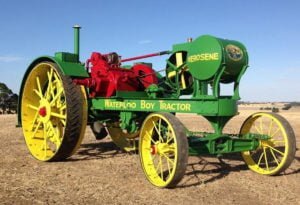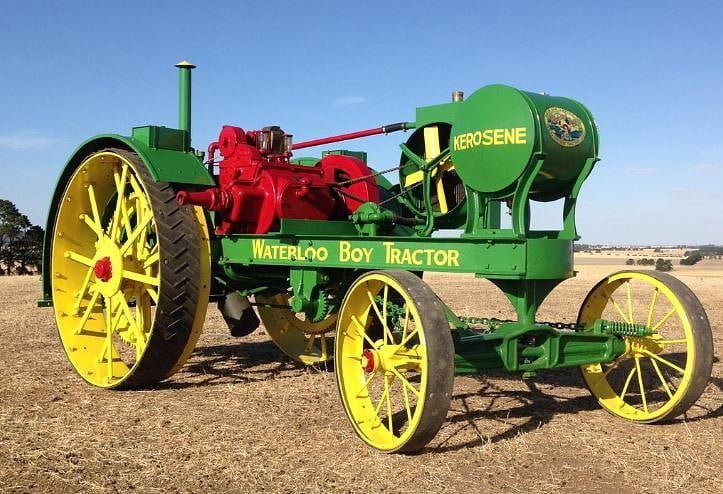 They oversaw the transition to mechanized farming with the introduction of John Deere tractors. There was a wide range of John Deere machines by the early 1900s through the acquisition of the Waterloo Gasoline Traction Engine Company in Waterloo, Iowa. There was an expansion in to the construction sector, and in to international markets in the 1950s. Notable milestones included a John Deere tractor being the first to introduce power assisted steering to enable tighter turning circles, and the first driver's cab with a rollover safety bar.
In the forty years since 1982, there have been five non-family CEOs. The incumbent has been in the position since 2020. However, each of them had worked for the company for decades, and truly understood its innovative ethos. The company now manufactures in 47 locations. 34 of them, employing slightly more than half of all John Deere employees, are outside North America.
Recent developments
The more recent CEOs have steered John Deere tractors and other machinery and services through its transition to the age of digital technology. This has provided new opportunities and challenges, and not been without controversy.
A recent benefit is cameras and AI-trained processors on sprayers that can identify weeds growing within crops. Spraying only where necessary reduces the need for blanket spraying of whole fields with herbicides. European trials have shown farmers can cut their bills by up to 70%, and it reduces the amount of herbicides going in to the soil.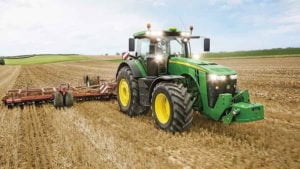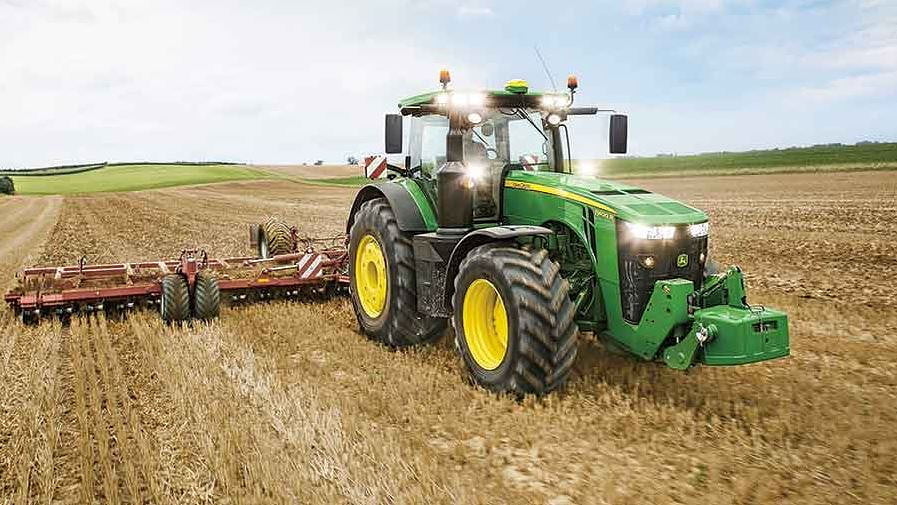 John Deere has spent nearly two decades investing in technology and robotics, which has culminated with a fully autonomous version of its 8R farm tractor that does not require someone to be behind the wheel. The company's vice president of automation and autonomy sees the company becoming one of the leading AI and robotics companies in the world alongside Tesla and Silicon Valley technology giants.
In the meantime, many farmers are beginning to realize that buying a John Deere tractor does not include ownership of the proprietary software that is its operating system.  Attempts to make their own changes to performance or repairs can shut down the OS and disable equipment. Farmers are used to being self-sufficient, and a growing number of them are looking for older pre-digital models to maintain a "right-to-repair" their own machinery.
Others are turning to hacking to gain personal control of the software.  Success raises the specter of malevolent tractor hacks to disable the machinery, and if carried out on a large scale it could paralyze a significant portion of US agriculture. John Deere the blacksmith had to protect himself against copies of his breakthrough plows, and the company trademarked its leaping deer logo to protect their products from counterfeiting and deception in 1876. His successors at John Deere tractors face a 21st century cybersecurity challenge.
The fourth edition of the global Bold Awards is now accepting entries in 30 categories, which include  AI, Agritech, Cybersecurity and Robotics.  You can register and submit your entry now in any of the 30 categories and return to it as often you want until 12th January 2023. Organize your followers to support you in a round of public voting in January 2023, which will shortlist the nominees, and then an international panel of judges get involved. The black-tie award ceremony will be hosted by the H-Farm innovation and digital education hub at their campus near Venice, Italy, on 31st March 2023.