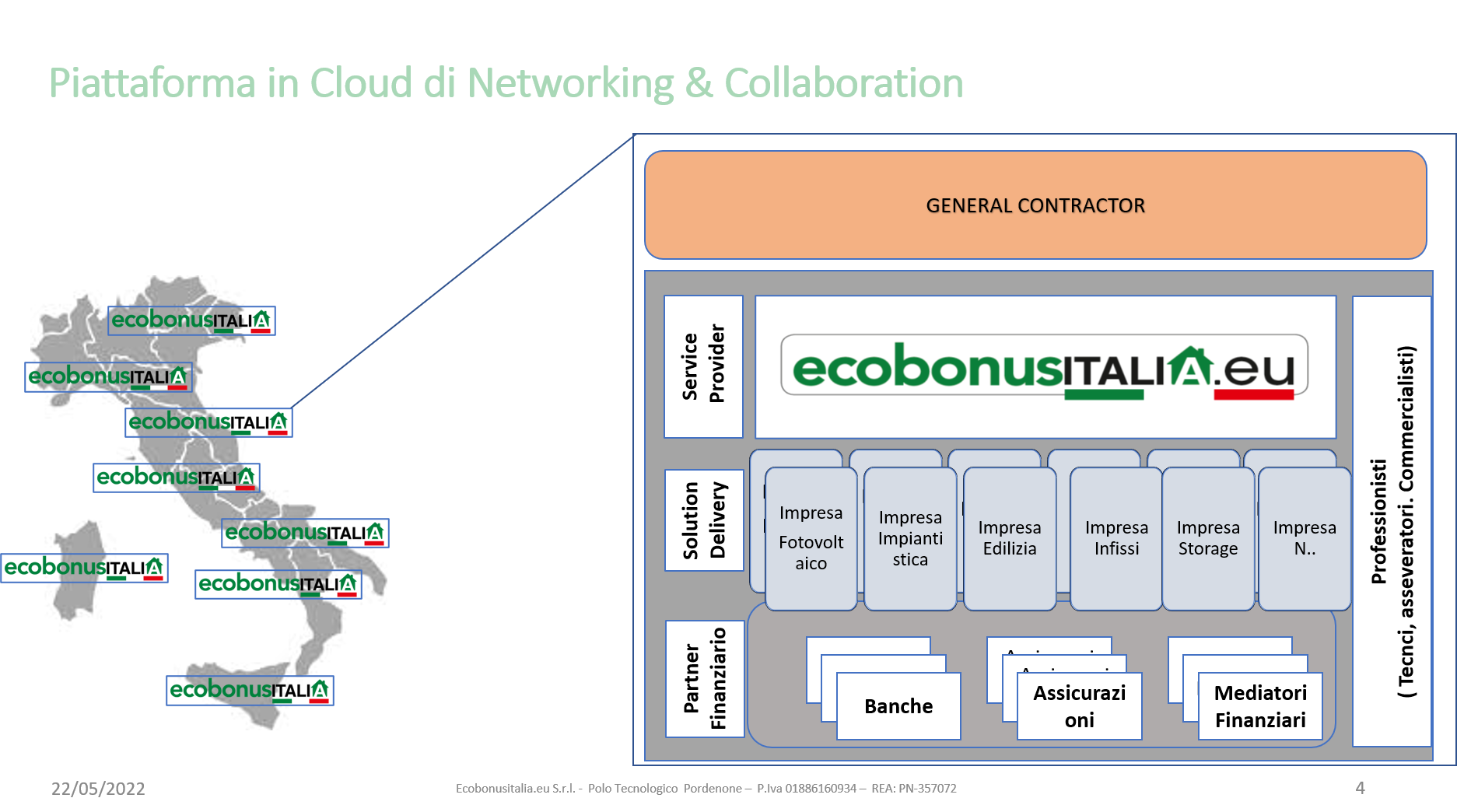 Ecobonusitalia.eu is a Cloud Digital  Market-Placement Platform specifically designed  for the management and construction of Energy Efficiency Buildings re-development projects, in compliancy with the  recent Italian by law regulation and incentive mechanism, known as Ecobonus.

Inevitably, the Ecobonus mechanism is expected to impact significantly the entire construction business industry in Italy, along with any other players, professionals, banks and service providers which might be involved in .

The only chance to cope with this new challenging scenario is for those players to benefit a new Digital and Scalable solution that enables them of network&collaborate to meet the emerging needs of such a new massive market, throughout the national territory.

Ecobonusitalia.eu is the Platform & Service Company that responds to those requirements.  Ecobonusitalia in a nutshell:
A Networking & Collaboration Cloud Digital Platform for redevelopment interventions compliant with the  Ecobonus by law.
A single reference Platform for qualified Partners to network: Equipment-Procurement-Commissionins (EPCs) Operators, Professionals, Financial Institutions, Service Providers.
A single reference Platform also for the Banks, Financial Institutions that can facilitate and industrialize the financing practices , projects funding, credit transfer to fund the operations.
A Management Dashboard the assists the Clients (Buildings Administrators) to monitor the status as well as the progress of their project, typically multidisciplinary and therefore,  as a result,  complex  in the management and coordination between the parties.
https://bold-awards.com/wp-content/uploads/2022/05/ECBI_NetworkCollaboration-39cd3830.png