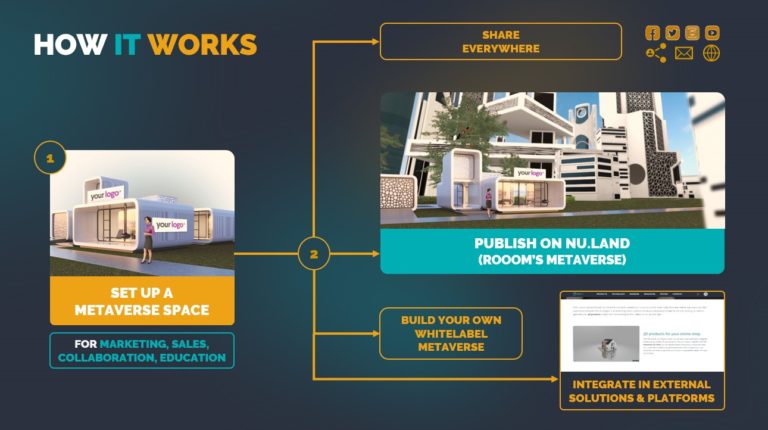 The rooom Enterprise Metaverse Solutions are reducing the entry barriers to digital experiences in the metaverse with web-based 3D technology that is accessible with any device. At the same time, we offer one of the first and most user-friendly content management systems for metaverse content.
Our mission is to make the metaverse accessible to anyone – regardless of any hardware or software limitations. We are implementing this by making 3D spaces accessible in the browser, without the need of downloading an app or extensive streaming of content, from desktops to mobile devices, even to VR/AR headsets. We are using 3D, NFT, AR and VR applications that run across all devices and enable companies to create their own presence in the metaverse.
Our self-service platform is built on a web-based 3D standard and makes the creation, management, and publication of metaverse content extremely easy and, above all, fast. The range of features is steadily growing, we are permanently developing and implementing new solutions, updates, and enhancements to the existing software.
The project is based on four pillars and is designed to cover the marketing needs of different industries through a comprehensive application portfolio:
Content Management System (CMS) to set up metaverse spaces in 3D
Platform to host virtual and hybrid events in the metaverse
3D product visualization to digitize products and integrate 3D objects into a corporate metaverse or e-commerce store
Connecting the real world with the metaverse using marker-based Augmented Reality (applications e.g. for tourism, culture, books/print media and digital learning
The combination of our metaverse applications allows the creation and development of both open and closed. There are metaverse concepts that allow the renting of areas or properties, as well as closed experience worlds of a company to build up its own corporate metaverse. Integrated NFT features allow proof of ownership, can provide access to special areas and can be used for digital certification or rewards.
What about rooom's scalability? The platform regularly hosts international events with up to 200,000 users and has more than 35,000 registered users worldwide producing content for the rooom ecosystem. The flexibility of the API-driven platform allows integrations to more than 1,000 other systems, like payment, ticketing, videoconferencing, or CRM software.
We offer not only 3D visualization tools, but also communication options like voice chat, avatars, gamification, and interaction tools. Customers put together their own individual package from various modules. This means that the platform can be used in any industry and for metaverse projects of all kinds. We offer almost all digital possibilities for marketing, sales, virtual learning, and extensive event needs in the metaverse. In addition, there are also various solutions for education, culture, and tourism available.
Our goal is to enable customers to do more and more on their own. Some of the features we released recently are virtual staging to enhance 360° tours, a 3D viewer plugin to integrate 3D products into e-commerce systems ven more easily, a fashion show in the metaverse, and the possibility to generate 3D avatars from photos. To make the digitization of products less complicated, we have developed our own 3D scanning solutions, including hardware. Clients use our platform to create their own virtual brand experiences, e.g. the Telekom Techgrounds (a virtual event in a metaverse environment) or the E.ON Republic of Innovators (a metaverse experience to build a ).
We believe that corporate culture is all about empathy, humanity, collaboration, and social responsibility. The team is made up of many different personalities, who work very well together. We believe in a team of experienced people from a diverse range of fields who drive innovation. The team members are supposed to do what they feel comfortable with – and that leads to the best results. CEO Hans Elstner motivates his team with a sense of humor, creating an inspiring feel-good atmosphere. As a result, the team works closely together, not for self-interest, and together we can manage even very large projects.