The positive group chemistry created by leading digital industry innovators made the BOLD Awards IV winners and nominees' gala dinner event truly atmospheric. Over 800 submissions were reduced to 120 nominees by a round of public voting, and judges' assessments then arrived at 2023's BOLD Awards IV winners in 30 categories.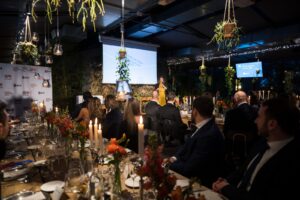 The prestigious international BOLD Awards recognise top companies, projects and individuals powering breakthroughs around the world in crowdsourcing, open innovation and numerous technology sectors, and celebrates the innovators who create them. 
BOLD Awards was created by Crowdsourcing Week, which provides insight, information and events for the global community focused on the crowd economy, with their partner H-FARM, one of the world's most important startup business development and accelerator hubs. The event itself was organised and hosted by H-FARM on their campus located just outside Venice. The audience included people from 30 countries, and was joined by H-FARM's Chairman, Co- CEO and Co-Founder Riccardo Donadon.
BOLD Awards' CEO Epi Ludvik and Emil Abirascid, Founder and Editor in Chief of Startupbusiness, MC-ed the evening.  A presentation by Stefania Quaini, MD of Angels4Women, put a spotlight on how far startup funding appears to be gender biased against female founders. Her argument is that we are not yet embracing all the technological innovations available to us if we do not respect diversity and inclusion, and the intelligence of women and their contributions. 
Then it was time to announce the 2023 BOLD Awards winners. Over 800 entry submissions had been reduced to a shortlist of up to seven nominees per category by online public voting. In the second stage, those votes were combined with the assessments of an international panel of judges to finalise the winners. The awards thus combined the power of the crowd and the judges' expert insight with the hard work of exceptional individuals.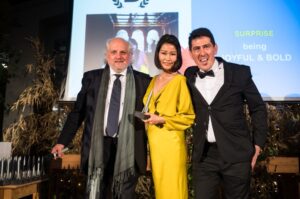 However, the first award had not been part of the standard process. Epi Ludvik presented a surprise award to his wife, Janice Kwa, in recognition of the priceless support and inspiration she has given him. He also shared that his father had passed away when he was just 10 years old, and his mother had raised him alone. She sadly passed away recently. It was a poignant reminder to never take our loved ones for granted.
BOLD Awards IV
We offer our congratulations to the BOLD Awards IV winners of each of the pre-announced categories.  FundamentalVR set a precedent by being the first entrant to win three categories Healthtech, Robotics and Metaverse. Where award winners were unable to attend without giving notification, the categories were withdrawn. An additional award, beyond the original 30 categories, was presented to Dhana Inc for BOLDest Social Impact. Here is the full list of the winners on the night. The award winners were announced while attendees enjoyed their four course dinner, with wines provided by Valdo, official drinks supplier to BOLD Awards. 
Boldest AgriTech. Regrow Ag / Sustainability Insights
Boldest AI, presented by LXT. Mintt 
Boldest AR / VR. Plectrum LTD
Boldest Blockchain & NFTs, presented by Venly. AdLunam 
Boldest Robotics, presented by Hanson Robotics. FundamentalVR and CMR Surgical
Boldest Crowdsourcing, presented by Crowdsourcing Week. RightHub
Boldest Marketplaces. RightHub
Boldest Sustainability, presented by 60+ EARTH HOUR. Grand Bequest
Boldest Healthtech. FundamentalVR
Boldest Crowdfunding. AdLunam
Boldest Insurtech, presented by Scalehub. PassportCard 
Boldest Metaverse. FundamentalVR 
Boldest SAAS, presented by Qmarkets. LANCK Telecom
Boldest IOT. Vernaio 
Boldest Space Frontier. Interstellar Lab
Boldest Fintech. KEO World 
Boldest Young Achiever. MyExpatTaxes
Boldest Edtech, presented by H-FARM. Zartech
Boldest Mobility. ReACT
Boldest New Media & Adtech. SyncWords
Boldest Proptech. Odevo 
Boldest Science. UYN Biotech Revolution 
Boldest Design.  Mysteryvibe's Tenuto Mini 
Boldest e-Gaming & e-Sports, presented by Tipalti. Sportcliqs App
Boldest Fashiontech. UYN Biotech Revolution 
Boldest Future Of Work, presented by Deskbee. … and dos Santos for Deutsche Bahn
Special Award on the night. Boldest Social Impact. Dhana Inc.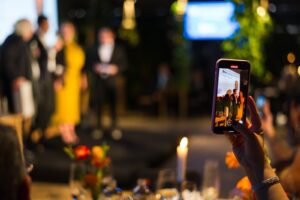 After the presentation ceremony and dinner, attendees networked and celebrated the 2023 BOLD Awards IV winners' success until it was time to leave. Once more, what made the winners' success such an achievement was the truly competitive nature of the high quality of all the nominations that had been submitted during the process. BOLD Awards thanks everyone who submitted entries, took part in the online voting, the international panel of judges, the category partners, and all attendees at the ceremony. We sincerely thank you all.
Images from the event are available to view in a Facebook album: https://crwdwk.com/Bold4AwardsCeremony
BOLD Awards V will launch in May 2023, and adding an additional 3 categories. We hope to see you in Venice in March 2024! #beBOLD