Why enter business awards in the first place?
Success in winning business awards for tech companies, as in all other sectors, is an independent assessment and recognition of a company's abilities and strengths. This article gives 10 tips on how to win business awards, which opens up other opportunities to accelerate growth:
Raise the company profile and enhance reputation, both nationally and internationally.

Impress existing clients or customers, and attract new ones.

Improve ability to secure investment and increase the overall business value.

Boost staff morale and retention through stronger team confidence in the business.

Generate greater trust and credibility among all stakeholders.
I call it "opportunities" to realise these benefits because they can't be taken for granted and won't happen by themselves after winning an award. Winning awards can definitely be a valuable factor to include in a company's credentials and marketing, ultimately helping to retain and acquire clients, and attract the attention of investors, suppliers, distributors, and other collaborative partners. Though how award success then becomes part of a company's outward persona is as much an important part of standing out and gaining recognition as winning any awards in the first place. 
Be sure that your business regards winning awards as valuable and worthwhile, so that you can rely on some internal support for your efforts. Set clear and agreed objectives to determine why you want to win an award and what specific goals you hope winning will achieve. This will help you focus your efforts and resources to carry out some initial groundwork. 
For example, if there is a clear aim for award success to be a part of a company's credentials and referred to in marketing activities, it makes engagement in wider community and industry activities more purposeful and defined. Let team members at all levels actively participate in industry events, conferences, and associations to help build a network and gain visibility, making your business more likely to be noticed by award committees. Some award schemes include an element of public voting, so cultivate followers who can be mobilised when needed.
Being known by and building a relationship with the organisers at an early stage can be advantageous. Don't be a "bolt from the blue."
Having established that your company takes entering awards seriously, let's look at:
10 tips on how to win business awards
How to make the most out of winning business awards
Dealing with falling short of the mark
1. 10 tips on how to win business awards
Research Award Opportunities
Identify relevant business awards in your industry, business lifecycle, or geographical region. Look for awards that align with your business's strengths and achievements. Check the types of businesses that have been previous winners.
Also, many awards have multiple categories. Be sure to enter the most appropriate ones. BOLD Awards are specifically awarded to tech companies, and allow each entry to be submitted in up to three of the 33 categories for the one entry processing fee. The BOLD Awards FAQs page has all the relevant information on this.
Understand the Award Criteria
Carefully review the award criteria and guidelines provided by the awarding organization. Ensure your business and entry meet the eligibility requirements. Here are details on how to submit a project to BOLD Awards.
The criteria for the BOLD Awards for tech companies are: Level of Impact 40%, Scalability 30%, Transparency 20%, H-Factor 10% (Human & Social).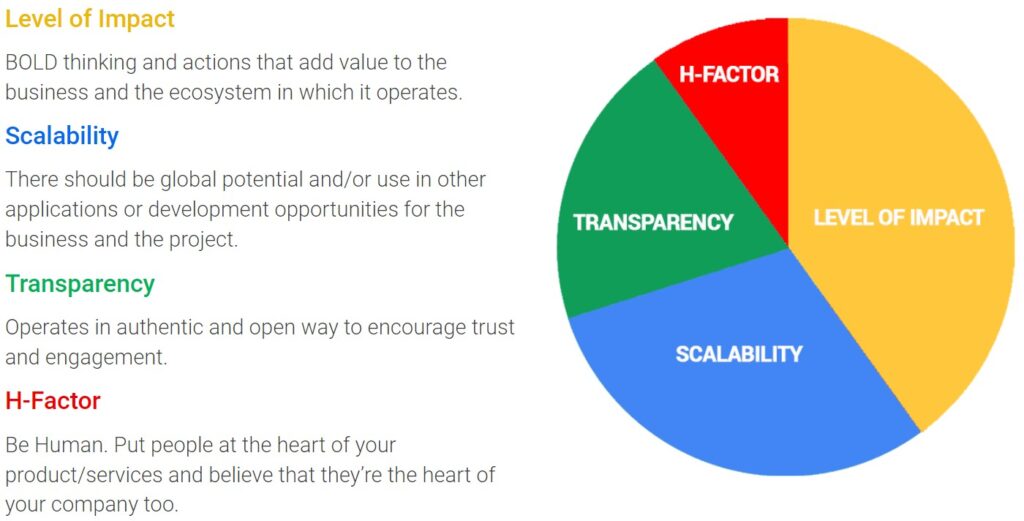 Showcase Real Achievements
Highlight your company's achievements, innovations, and success stories. Provide concrete examples of how your business has excelled in its field. Do not try to overly build up anything of relatively little importance. Be truthful!
Create a Compelling Submission
Write a well-structured and persuasive award submission. Clearly address each criterion, providing evidence and data to support your claims.
Make it engaging by telling an engaging narrative about your business. Explain your journey, the challenges that were overcome, and how you've made a positive impact. 
Make it Easy to Read
Short and simple sentences, especially within awards for tech companies, are essential. The judges, and general public (if they play a role in the judging), may not all be experts in your field and will be unfamiliar with technical shorthand or jargon.
When possible, use images that substantiate and illuminate the success achieved, rather than just decorate the page.
Provide Evidence
Evidence of a positive impact could be in econometric terms, though don't forget to consider ESG factors and corporate social implications. If relevant, showcase how your project, product or entry in general represents a commitment to social and environmental responsibility. Highlight any community involvement, sustainability initiatives, or ethical business practices.
Attach relevant documents, such as financial statements, case studies, or media coverage, to bolster your submission.
Include testimonials from satisfied customers, partners, or industry experts to validate your claims and credibility (if allowed within submission criteria).
Highlight Unique Selling Points
Emphasize what sets your business apart from the competition. Showcase your unique strengths, values, and contributions to your industry or community.
Proofread and Edit
No tips on how to win business awards would be complete without "make sure your submission is free from errors and typos." Consider seeking professional editing and proofreading to make your submission polished and error-free. At least have your colleagues read it.
Follow Submission Guidelines
Keep to the submission format and any word or page limits specified by the awarding organization. Though remain pithy and remember to pack a punch. Don't put in extra words simply to fill it out just because you're still within the word limit. Entries to the BOLD Awards can be revisited any number of times to update or amend, right up to the closing deadline on December 31st. Then in January 2024 there will be a round of public voting.
Prepare for Interviews or Site Visits
Some awards may involve follow-up interviews, site visits, or presentations. Be prepared to eloquently discuss your business and its achievements.
2. Congratulations – you have won! What now?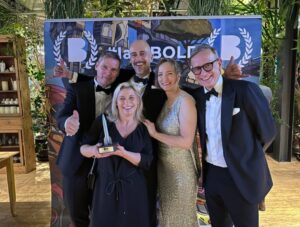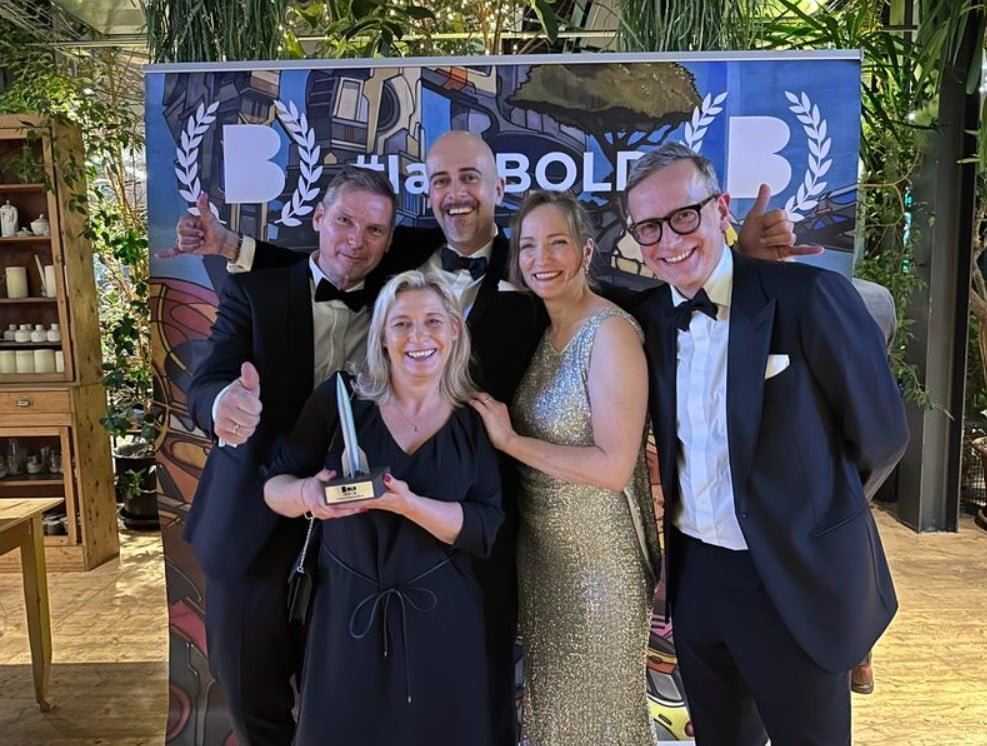 Few people are likely to take your award success seriously if you don't in the first place. Be sure to turn up at the award ceremony to receive your prize in person, if that's the award presentation format. Bring the team to reward them for their efforts, and make sure you have some images to use and share after the event.
Then you can celebrate, and enjoy a unique moment to network with other attendees. This can include potential affiliates and collaborators, the judges that your entry impressed, and perhaps a category prize sponsor who could further help the development of your business or project. 
Start to publicise your achievement: use it as a marketing tool. Share the news through your website, social media, content marketing and press releases to boost your company's profile. Say that you and the team are available for interviews and podcasts, and make a video featuring the winning team members. Tell your clients. In an ideal scenario, the costs of this activity will have been budgeted for, to at least some degree.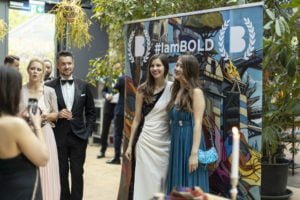 After the award ceremony you still have a great opportunity to reach out to other entrants to check for collaborative opportunities. And was there a judging panel with business leaders in your sector that you'd like to connect with?
Finally, maximize the return from the efforts required to create your winning entry. Can it be amended or repurposed to fit multiple other awards for tech companies, or other related sectors?
3. There can be only one winner in each category
If you don't win, remain positive and stay persistent. Don't be discouraged by rejection. Winning awards can be competitive, and it may take multiple attempts before you discover your winning formula and succeed. Use feedback from past submissions to improve, and check the winning entries each time to see what made them better – in the judges' opinion. Don't forget the earlier 10 tips on how to win business awards.
Your project team can still enjoy being at the award ceremony. Being a finalist in the BOLD Awards is recognised as a big win in itself, and is worth some PR activity.
Perhaps the risk of not winning or being a finalist is also a good reason for you to generate some return from simply entering awards in the first place, without waiting for the judging and announcements of winners. 
BOLD Awards 2024
Entries can be submitted now in 33 categories of the fifth edition of BOLD Awards, and worked on any number of times up to the closing date of December 31st, 2023. Use the link to find all entry details and about how the judging process works. Awards will be presented at a gala dinner ceremony for category finalists on March 22nd, 2024, in Venice, Italy.