Blowhorn: Solving toughest customer problems in developing countries by creating a full stack, asset light, intra city logistics platform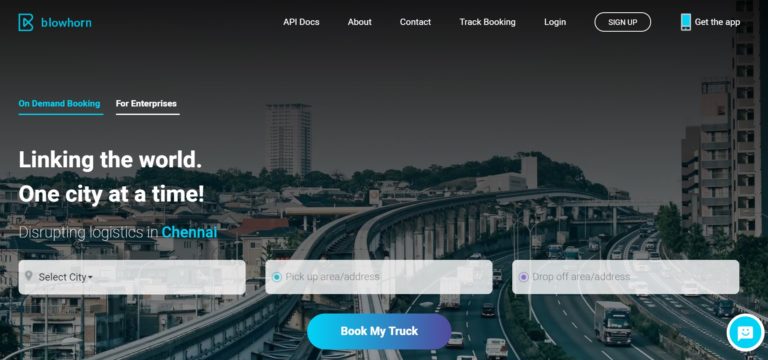 The Problem and the Opportunity
$ 24 Billion Intra-city logistics market in India was fragmented with neither standardised pricing nor defined processes resulting in unreliable supply with an average of 4 hrs waiting time for Trucks. The e-commerce logistics ecosystem was limited by capital intensive play and low leverage of technology, contextual intelligence, and scale-driven logistics solutions. MSMEs had low access to a technology-driven organized player. Traditional logistics companies were asset heavy and riddled with primitive technology platforms.
The Solution and the Impact
We saw a need for a company that solves large logistics problems of both traditional and new age businesses by aggregating commercial vehicles, creating a technology platform that connects drivers directly with businesses, and ensuring a seamless flow of goods within a city. This model significantly decreased logistics costs and delivery time for businesses. E-commerce companies are now able to pilot new business lines; manufacturers are able to deliver products faster to the end consumer. Leveraging technology, we ensure right kind of goods are moved using the right kind of vehicles and drivers. Technology helps to make efficient demand connections thereby increasing the utilization of fleet and lower lead times for the customers. Small and Micro Enterprises are relying on Blowhorn's spot market for transparent logistic services via a mobile app and availing high quality logistics solutions without a fixed fee. E.g. to work with an organized logistics player to manage inventory and delivery, SMEs need to guarantee billing of about 30,000$ of monthly billing. Blowhorn is able to provide services for as small as 20 deliveries per day which translates to approx. 10-20 because of its asset light model and micro-warehouses pooling the inventories of multiple customers.
Current Scale
After the inception in 2014, first 500 customers (Individuals) were acquired through Facebook groups. The reliability and quality of service spread the good word and built the good traction. In the case of Enterprise customers, we adopted getting "foot in the door" approach to understand and offer tailored solutions to solve their most pain point areas. Our customer retention rate of more than 95% and 2.5x YoY growth in revenues with our biggest customers tells the story itself. We've developed our service capabilities by adding business lines like micro-warehousing to our already existing transportation services.
Blowhorn marketplace currently has 25,000 driver partners on its platform serving 70+ Enterprise customers and 2500+ SME's in India across 25+ sectors. Blowhorn operates in 35 cities in India including the 5 mega cities – NCR, Mumbai, Bengaluru, Hyderabad and Chennai as opposed to 3 cities three years ago. To enable scale, Blowhorn has set up franchisees across Tier 2 and Tier 3 cities which provide access to the large Indian market with minimal or no costs helping us to scale at a very rapid pace. Blowhorn will expand to over 100 cities in India. We intend on providing express deliveries with no human intervention and will create a seamless marketplace driven by technology. We'll make a significant investment in AI, ML, and other deep tech to enable efficient and cutting edge logistics services. We are market-ready for autonomous deliveries. We will be India's leading logistics company and take a stab at being the earth's best intracity logistics company.
Social impact
On a tech-enabled platform like Blowhorn, our driver-partners have reported an increase in their gross earnings by 33% and an increase in their take-home income by 100%. This has been possible through more access to demand, increased utilization, planned driving routes, and regular payments. Furthermore, over 9% of our driver-partners go on to buy a second vehicle and employ other drivers, making them micro-entrepreneurs themselves. Blowhorn is also up-skilling driver-partners by providing them training on using mobile technology, communicating in Basic English, and managing proof of deliveries (PoDs) and cash on delivery (CoDs).
Commitment towards Sustainability
Blowhorn has also committed to turning 50% of its fleet to sustainable technologies with a majority focus on eVehicles.
Steps | Log in -> Vote project -> Vote now -> Confirm Vote -> Be BOLD
VOTES
Konstantinos (Kostas)
10.00