The drive to tap into VR developments is now more alive than ever, as companies focus on becoming part of the highly anticipated metaverse. VR (virtual reality) continues to register multiple breakthroughs across many industries. The gaming, healthcare, and education sectors are some of the most vibrant sectors when it comes to VR innovations and breakthroughs. Here are three recent VR developments in 2022.
VR Breakthrough in the Gaming Industry
Gaming is already known as one of the key drivers of VR inventions, and 2022 has come with its share of breakthroughs in sector. For example, Cosmic Chase is a next level game enabled by Porsche by utilizing technology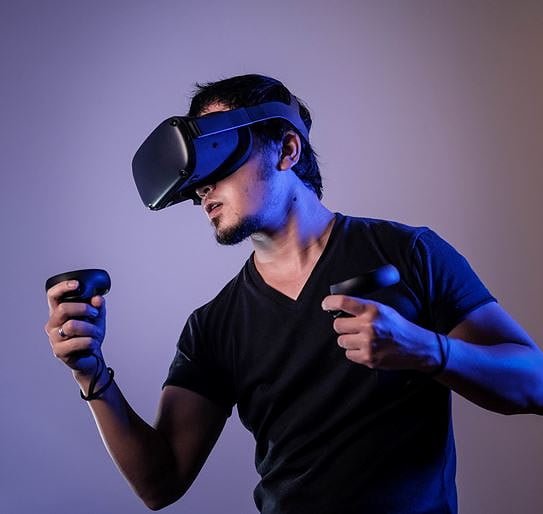 from a Germany-based startup called Holoride. The game leverages next level VR and you get to feel as if you are actually flying. In the game, you can actually aim with your eyes as you use the controller to trigger other actions. Holoride was able to perfect the technology to enhance coordination between software and live inputs, such as steering and breaking. This ensures a seamless experience that is very close to reality. With the kind of technology Holoride is leveraging, motion sickness is no longer a problem. The company is looking forward to working with many more manufacturers of both cars and car games to come up with sophisticated software to continue pushing car entertainment to the next level.
Holoride is not the only company realizing VR breakthroughs in the gaming industry. Polkawar is a startup based in Singapore, whose product capitalizes on immersive gaming and decentralized finance. The game has a marketplace in which gamers can sell and earn crypto. By playing, gamers earn PWAR, the platform's token. As if not enough, the gamers can stake their token to gather more as well as rent game equipment as a method of earning more tokens.
In essence, many startups are developing gaming technology that falls in line with the metaverse dream introduced by Mark Zuckerberg last year. Other companies with a dedication such as that of Polkawar include Axie Infinity, Players Only, and Zepeto, all looking to achieve futuristic gaming possibilities while making it possible to earn through gaming.
The Health Industry VR Breakthrough
The health industry continues to capitalize on VR developments to streamline various practices. These include pain management and rehabilitation attempts. VR has already done a lot for the health sector as proven in a 2021 study which found that the technology mitigated back pains and discomfort by over 30%. It is by no surprise that more discoveries as to how VR can be used to cure other conditions are being realized.
One of the latest milestones is cognitive therapy treatment to treat patients of psychosis. This milestone was realized by Oxford University Researchers who came up with a VR-enabled tool that simulates real world scenarios. Patients can choose their preferred virtual environment to experience next level therapy and potentially recover from harmful cognitive behavior.
A major problem that this discovery will solve is the shortage of perfect therapists who can handle all variants of cognitive disorders in a personalized way. In this context, VR comes in handy because patients can rely on VR completely, without the need for a human therapist. All a patients need to do is wear a headset (the project is utilizing HTC Vive Pro) and hit start to enter into the simulated world, complete with a virtual therapist.
The first trial of developing VR for psychosis has gone down as the largest use case of VR on mental health. The project, duped gameChange, was funded by the UK national Institute for Health research and executed by Oxford VR, McPin Foundation, and 9 UK government health authorities. During the test, patients had the freedom to choose the type of interaction they preferred, be it a pub, café, shop, to name a few.
After a successful trial, Professor Daniel Freeman of the Department of Psychiatry of University of Oxford confirmed that gameChange yielded unimaginable results. He went on to note that patients who had previously been confined indoors started to interact with the world once more. The professor also noted that the project is capitalizing on well-affordable VR equipment to ensure that the VR solution will be viable for a wide range of patients in terms of affordability. Given its progress, the gameChange project will, without a doubt, live up to its name.
Education Industry VR Breakthrough
Education and learning is unavoidably one of the biggest sectors in the larger societal facet. Online learning has already taken huge steps towards its future. Developing VR aims at providing real experience essentials, like classrooms, and offers access to a large collection of materials. VR-driven education fosters student engagement, and facilitates virtual field trips and highly-detailed training. Most importantly, it ensures equality by offering the same educational reach regardless of distance.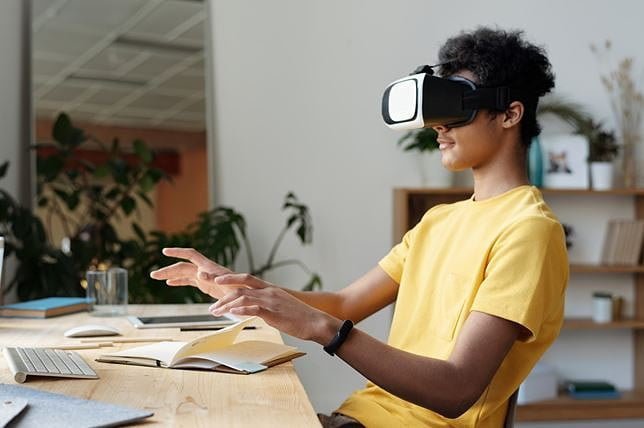 Many startups are understanding the call and are gearing up towards the creation of next level VR platforms for learning. One such company is Indian based Next Meet. The company is concentrating on remote working, collaboration and learning. Next Meet is using 3D avatars to streamline interaction in a virtual environment. Its efforts are to make learning more effective for all by breaking barriers as well as reducing the cost of accessing quality education. As if not enough, the company is creating 3D environments for virtual events, including trade fairs and conferences. Such capabilities are in synch with the overall metaverse dream.
2022 has come with a lot of advancements for product and service delivery across multiple sectors. Some of the leading sectors in developing VR breakthroughs are health, gaming and education sectors. As far as gaming goes, VR is building on what already exists to add more life into the experience. The same goes for the health sector, where virtual therapists are replacing physical ones among many other capabilities. VR is revolutionizing the education sector to make quality education accessible for all, and at an affordable cost. Other industries that are experiencing significant  VR developments include gambling, tourism, real estate, interior design and retail. Everyone should embrace these innovations as they become available.
You can register and secure your ticket now for our "eGaming and the Metaverse: a World of Opportunities" BOLD Session event on May 19. You won't want to miss the insights our international group of panelists from the automated payables, AR/VR and the crowd economy sectors will share: https://bold-awards.com/bold-series-egaming-and-the-metaverse/