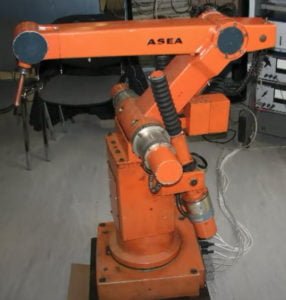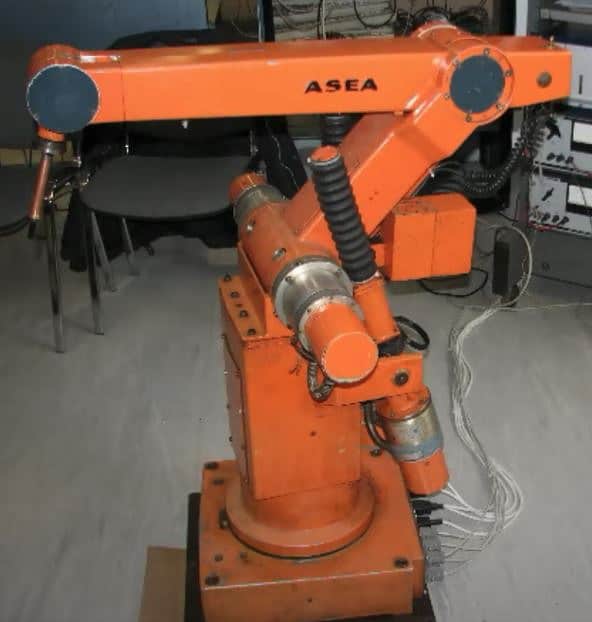 The first industrial robots emerged in the 1960s. In 1967 a predecessor of ABB created the first all-electric industrial robot, the IRB 6. It set new robot standards of position accuracy, movement speed, and footprint. Just over 20 years later, ABB Robotics was created in 1988 through a merger and then a series of swift acquisitions. Through its vast robotic systems and innovations focused on enhancing productivity, efficiency and accuracy, ABB robots gained a global reputation as leading automation technology. All achieved while minimizing environmental impact.
This article looks at the rise of ABB through some pioneering innovations and collaborations that define both its own brand and the generic relevance of industrial robots in industrialized automated solutions.
Rise of a Global Power in the Robotic Industry
The Swiss ABB Group was formed in 1988, when the Swedish ASEA and the Swiss BBC Brown Boveri merged under the name ABB. ASEA's history dates back to 1883, when it was founded by Ludvig Fredholm in Västerås as a manufacturer of electrical light and generators. BBC Brown Boveri had become a group of electrical engineering companies, originally founded in 1891 by Charles Eugene Lancelot Brown and Walter Boveri.
The new ABB Group carried out a massive and swift expansion programme. 
In 1988 it acquired 15 companies including the Swedish environmental control group Fläkt AB, the Danish railway manufacturer Scandia-Randers A/S, and the contracting group Sadelmi/Cogepi of Italy. 

In 1989 it purchased a further 40 companies. 

In 1990, ABB bought the US robotics business Cincinnati Milacron, giving it a presence in automated spot-welding in the American car making industry.

When the company launched its IRB 6000 in 1991 it was the world's fastest and most accurate spot-welding robot.
Geographically, after the fall of the Iron Curtain in Europe in 1989, ABB spread east in the 1990's into the former communist states. Witnessing China's growth as an economic and industrial power it also developed its presence in Asia.
In market sectors, it pivoted and sold its fossil fuel-based energy production and train building assets to concentrate on manufacturing components and developing automation services, selling them to the other players in the sectors. Since 2000 ABB has extended in to wireless technology, telecommunications, hardware and software for machine and factory automation, solar energy, battery power storage and electric vehicle charging.
ABB Robotics in our daily lives
The company's corporate development and evolution has made it a powerful force in many people's daily lives, though very often an unknown and unrecognized one.
In 2000, ABB launched the world's first commercial, high-voltage, shore-to-ship electric power system, at the port of Gothenburg in Sweden. It enables berthed vessels to shut down their engines, significantly cutting vibrations, noise, and carbon emissions. Today, ABB's expertise in marine power systems extends to zero-emission harbor operations and vessel propulsion, reducing supply chain carbon footprints of any types of goods transported by sea.
More directly for consumer end-use, and with rising energy prices around the world contributing to what's been called a cost of living crisis, ABB has launched a home energy monitoring and management system. A smarthome app can automate and optimize energy consumption of connected devices to help homeowners control energy bills by using them more frequently at times when there is a more abundant, and cheaper, energy supply available. Of course this also helps the energy providers to avoid shortages at times of peak power usage.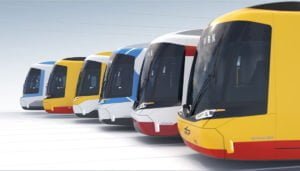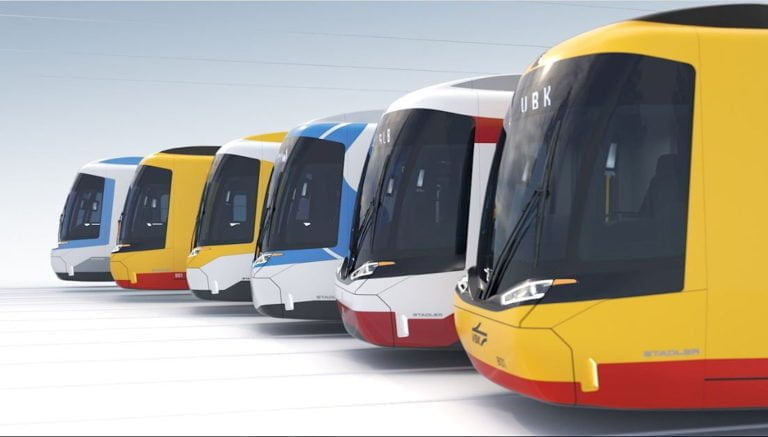 In October 2022, rail company Stadler Valencia awarded ABB Robotics orders worth $170 million to power over 300 new trains and locomotives with highly energy-efficient traction technologies. They will be used mainly to modernize and reinforce train transportation in Spain, Portugal, UK, Germany and Austria. Trains operating in different countries will be powered by ABB traction systems that convert electrical energy from overhead power lines to the right voltage and frequency to drive the traction motors. Further technology installed in locomotives will  increase energy efficiency, reduce lifecycle costs, and take account of external factors such as the weather.
An example of how ABB helps bring food to our plates also epitomizes its collaborative approach to finding and delivering better solutions that support sustainability. To reduce energy usage at a large greenhouse complex in the United States, ABB teamed up with Rexel, a global leader in the distribution of electrical supplies and services, and with Dutch-owned GST. GST builds bespoke control panels and distribution boards to help horticultural businesses create the best artificial growing environment for their crops. A pre-assembly design reduced installation time and costs on site by 75%; the lamp-starter combinations give off 10 to 20% less heat than competitive models; on-going energy costs were reduced by 30%,
Involvement with the car making sector has advanced a long way from providing ABB robots to do the welding. A Volvo car factory in Brazil wanted to be sure that its production floor design plans would deliver the extra efficiency it was seeking. They used ABB's RobotStudio® Augmented Reality viewer to visualize how the robots would operate together in specific spaces. Engineers were able to see any issues that would affect real-world performance on their smartphones and tablets.
RobotStudio
A Senior Advisor at ABB, Bertil Thorvaldsson, is widely acknowledged within ABB as the 'father' of its end-to-end software, RobotStudio®. It is an offline robotic programming and simulation tool that facilitates virtual collaboration and remote working.
Bertil joined ABB Robotics in 1976 and was recently honored with the prestigious Engelberger Robotic Award for his almost 50 year devotion and contributions to the robotic industry, displaying excellent leadership and driving technological development.
Managing public perceptions of robots
An increasing number of people work alongside robots. Until 2014, ABB robot products had been a uniform orange color (unless a customer had requested a different one). It was to make the robotic equipment stand out and be noticed, as working with or near robots was considered dangerous.
In 2014 the color of all ABB robots changes from orange to white, intended to signify a higher safety standard and encouraging greater use and acceptance of robotics in the workplace. It may be far from a coincidence that in 2015 ABB presented the world with YuMi. YuMi is the world's first inherently safe robot, with best-in-class safety design and collision detection control. That means it can be deployed right alongside people across a wide range of environments, subject to a risk assessment.
Working with ABB robots
YuMi could be programmed to operate with pinpoint accuracy at faster speeds than humans, carrying out repetitive or dangerous work, or completing tasks that require impeccable hygiene and great accuracy such as in medical laboratories. Whether it's faster checking of blood samples or constructing smartphones, robot coworkers can enhance what humans are capable of.
ABB robots can also be built to reach out further beyond the reach of a human arm span, opening up ergonomic potential on assembly lines and in other workplaces.
It's true to say ABB's robot YuMi ushered in a new era of robotic coworkers and workplace automation. Human resources could be directed more to tasks that humans are better at. Businesses that incorporate elements of automation find both productivity and employee wellbeing increase, reducing workforce turnover.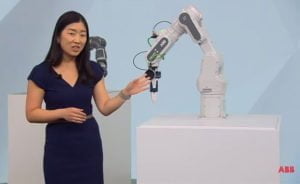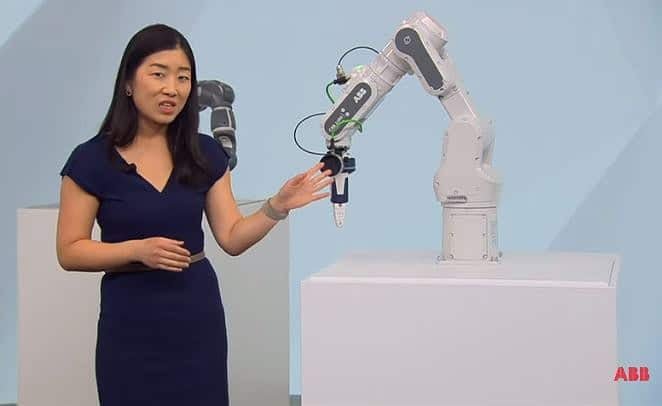 Social distancing was less of an issue during the global pandemic in workplaces where people worked alongside robots rather than each other. This, and other lessons learned from its customers, spurred ABB on to launch a new generation YuMi in 2021. With lower entry costs and easier-to-use technology (no coding skills needed), robotic automation is viable for smaller businesses. YuMi remains an ABB flagship product, and ABB Robotics remains a pioneer in robotics, machine automation and digital services, with more than 500,000 robot solutions installed.
We have our own robotics award, the Boldest Robotics category in the BOLD Awards. This category is for a robotics project that stands out in terms of innovation, quality, value, and engineering. Projects entered into this category should demonstrate the creation of new products, applications, process automation or markets in robotics. You can submit your entry now and come back to work on it up to 31st December 2022. A round of public voting in January 2023 will shortlist nominees in each of 30 categories, and a black-tie award ceremony will be hosted by the H-Farm innovation hub at their campus near Venice, Italy, on 31st March 2023.