Innovation never sleeps
The story of the German international brand adidas began in 1924, 25 years before the brand name was first used. After World War One, an enterprising innovator in post-war economically depressed Germany, named Adolf Dassler, began making sports shoes in his mother's scullery. In 1924 he was joined by his brother Rudolf, and they established the "Dassler Brothers Shoe Factory" (Gebrüder Dassler Schuhfabrik) in Bavaria. Founder 'Adi' Dassler steered the business for more than 50 years. Today, with its distinctive three stripe adidas branding, the sportswear business that started in a kitchen washroom is second only to Nike as the world's top sports goods corporation.
An early market disruptor
The starting point of the company's success was when it disrupted the existing sports footwear market of the time. Adolf 'Adi' Dassler, a keen athlete, began experimenting with spiked athletics' shoes. At the time they were made of heavy leather, very much like regular men's shoes, with heavy spikes fixed to the soles. He set about improving them with lighter and more flexible materials, and better spikes, and experimented with canvas and rubber. He hand-made slimmer spikes, and created a range of shoes to match different events. Shoes for sprinting, for example, have very little heels and only spikes in the front, whereas high jump shoes have spikes at both the back and front.
Product improvement through crowdsourcing
Adi began sending samples of his shoes to local sports clubs to demonstrate the quality of his product, and he received feedback to help him further improve his products – plus numerous orders. Continuing in to the late 1960's, Adi Dassler still met with athletes from a cross-section of sports (some of whom wanted to visit the factory in Bavaria, Germany), and listened carefully to what they said. He constantly observed what could be improved, what needed to be invented, and what should be demanded from suppliers to support their needs.
In 2015, this direct connection to customers, whether elite athletes or fun participants, remained a key part of adidas's five year plan. It was expressed as "Be the first sports company that invites athletes, consumers, and partners to be part of the brands."
Early association with high profile athletes
Within just four years of launching their business, record-breaking and medal-winning athletes wore Dassler Brothers' footwear at the 1928 Amsterdam Olympics. Though the big breakthrough came when they provided spiked shoes for the US sprinter and long jumper Jesse Owens who won four gold medals at the 1936 Berlin Olympics.
After the 1939 to '45  World War Two, the brothers parted company in 1948. Rudolf Dassler established a rival sports' goods company that would become known as Puma. Adolf Dassler abbreviated his name and registered his new company in 1949 as adidas. 
Success continued, and it was just after the 1952 Summer Olympics, when the legendary Czech long-distance runner Emil Zatopek won three gold medals wearing adidas shoes, that the brand acquired its now globally recognised three stripes trademark.
In a move in to other sports, the West German football team wore adidas boots when they won the World Cup in 1954. Their boots were half the weight of those worn by the opposition, with screw-in studs that could be changed to match different ground conditions, and with softer leather that allowed better ball control. Plus the distinctive three stripe adidas branding. Innovation and superior products made adidas and its founder a household name on football pitches everywhere.
Adidas' innovation continued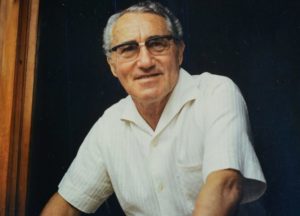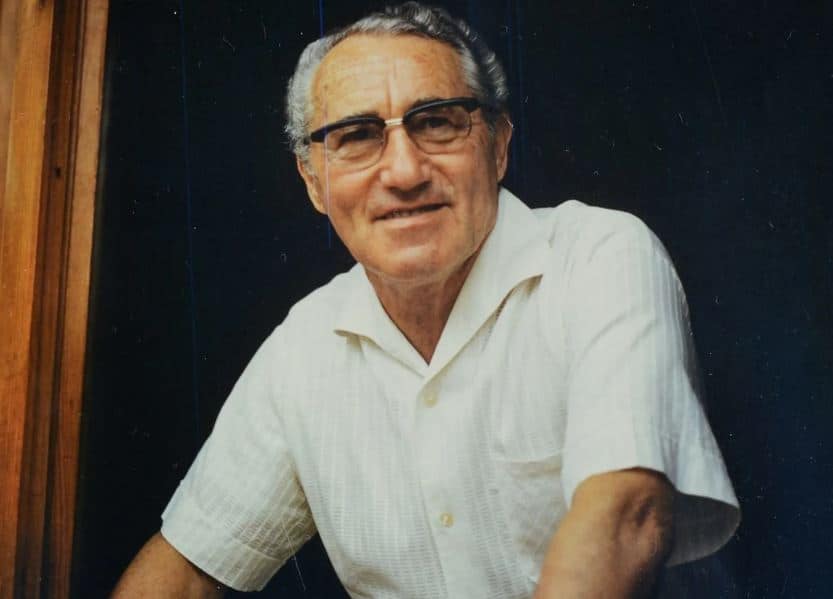 Track shoes switched to nylon soles and the spikes became interchangeable. Adidas demanded stronger and lighter leather from their suppliers. Thousands of developments were carefully protected by patents against competitors. 
In other sports, the heavyweight boxers Muhammad Ali and Joe Frazier both wore adidas boxing shoes when they fought in 1971. US tennis player Stan Smith won Wimbledon in adidas tennis shows in 1972, and Australian Rod Laver won six tennis grand slams in adidas shoes. 
In its core sector of athletics, 80% of track event medals awarded at the 1972 Olympic Games in Munich went to athletes wearing adidas shoes. Romanian gymnast Nadia Comaneci scored the first ever perfect 10 at the 1976 Montreal Olympics wearing equipment with the distinctive three stripe adidas branding.
Adidas switched from sales-led to marketing-driven
More than 50 years after first making athletes' shoes in his mother's kitchen, Adi died in 1978 and the company began 15 years of decline. His wife Kathe ran the business until she also soon passed away in 1984 from heart failure, and their son and heir Horst Dassler tragically died unexpectedly at the age of 51 in 1987.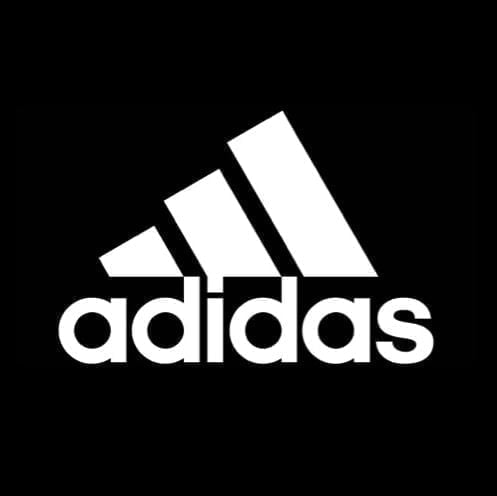 During this time, the sports goods market was transformed by the boom in personal fitness club and gym memberships, and amateur running became a more lucrative mass market. Adidas had taken its eye off the ball, and while their competition grew stronger it had no clear strategy. Adi's four remaining daughters exited the business.
By 1992 the company was close to bankruptcy, and French businessman Robert Louis-Dreyfus bought it and became chairman in 1993. He had previously been CEO of the UK-based global advertising agency Saatchi & Saatchi from '89 to '93, so he understood successful marketing and branding. In 1995 Louis-Dreyfus listed the company on the German stock market (in respect of the company's heritage), and is acknowledged as restoring adidas to its former prominence. It adopted a marketing slogan that summed up the debt still owed at the time to founder Adi Dassler: "We knew then, we know now."
Continued association with top sports performers
Today, the power of the adidas brand is being maintained with respect to its authentic origin as a preferred supplier by top sports performers. The latest addition to the personalities and teams  equipped by adidas is the Italian football club Roma. The deal will begin in 2023, 29 years after the two parties collaborated with each other for the first time. 
However, there are many other issues a brand has to consider these days that Adi Dassler did not have to consider.
More than sport
At the same time as it remains important to maintain the sporting heritage, fitness and sportswear has become streetwear and is an intrinsic part of contemporary casual fashion and lifestyles. 
Through its collaboration with the Marvel Studios' movie "Black Panther: Wakanda Forever," adidas has created a unique Black Panther-themed range of footwear and clothing, plus a workout experience and fitness challenge in participating markets. Taking inspiration from the film, a 15-minute movie-themed workout, available via the adidas Runtastic app, takes cues from the film's action-packed sequences and dynamic characters, infused with music inspired by the world of Wakanda for a fully immersive experience. 
Making it personal
Given the mass membership of sports and fitness clubs and gyms, it seems obvious that adidas should have its own one in a number of countries. It's free and easy to join online, and adiClub members get free shipping on purchases, discount vouchers and members-only products.
The first week of October 2022 sees the return of Members Week. With seven days of unique experiences, fresh products and member-only rewards that champion inclusivity, adiClub members are given reasons to celebrate themselves, their body, their potential, and their style.
Members who purchase from the Stitched Classics collection have the option to further customise their item at their nearest participating flagship store.
Members can become valuable brand advocates and ambassadors, promoting the adidas brand at a personal network level.
Flagship stores with leading-edge technology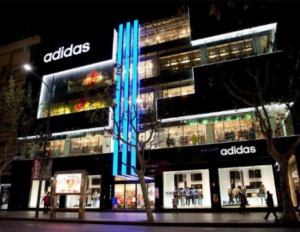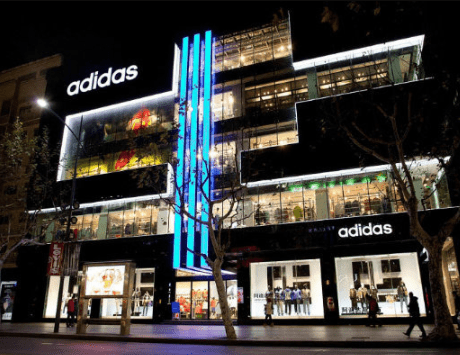 The flagship stores are located in adidas's key cities portfolio of London, Los Angeles, New York, Paris, Shanghai and Tokyo,  to which they are adding Rome, Mexico City, Berlin, Moscow, Dubai, Beijing and Seoul. The high tech stores are the brand's physical embodiment of their strategic technical aims and commitment to innovation and digital agility, with till-free shopping, sales assistants armed with tablets for instant stock checks and transactions, multi-screen product displays and top sports action – all with the trademark three stripes prominently on show.
The purchase process is part of the branding, not just a transaction.The in-store technology also represents the advanced technology used to design and create the adidas products.
Sustainability
No major brand can ignore the public's growing concern. Following a thorough assessment by rating agency S&P in 2021 adidas was awarded with an overall ESG Evaluation score of 85, placing the business among the top ten in the entire S&P Global Rating Universe.
Adidas brand impact on the bottom line
In its 2021 Annual Report, adidas expected its currency-neutral net sales in 2022 to grow at a rate between 12% and 14%, with gross margins projected to increase to between 51.5% and 52.0%. Driven by the strong sales growth and the gross margin improvement, they expected an operating margin of between 10.5% and 11.0%. Adidas set out its aims to grow the bottom line significantly faster than the top line. As a result, net income from continuing operations was anticipated to increase to a level of between €1.8 billion and €1.9 billion.
The adidas "official history" venerates Adi Dassler as a pioneer, innovator, communicator and visionary. In the same vein, the global BOLD Awards celebrate companies, projects, and individuals in the digital economy that are leading the way for positive impact. If that describes you, you can submit your entry now in any of 30 categories and come back to work on it up to the closing date of 12th January 2023. A round of public voting later in January 2023 will shortlist nominees in each of 30 categories. A black-tie award ceremony will be hosted by the H-Farm innovation hub at their campus near Venice, Italy, on 31st March 2023.