Kintsugi Upgrades is an NFT collection that uses the Japanese mending technique called kintsugi to combine medieval and post-classical artifacts with high-tech functionality, creating a product that exists in a purely digital realm. This project imagines an alternate future where a more advanced civilization discovers ancient artifacts and rebuilds and augments them with enhanced technologies.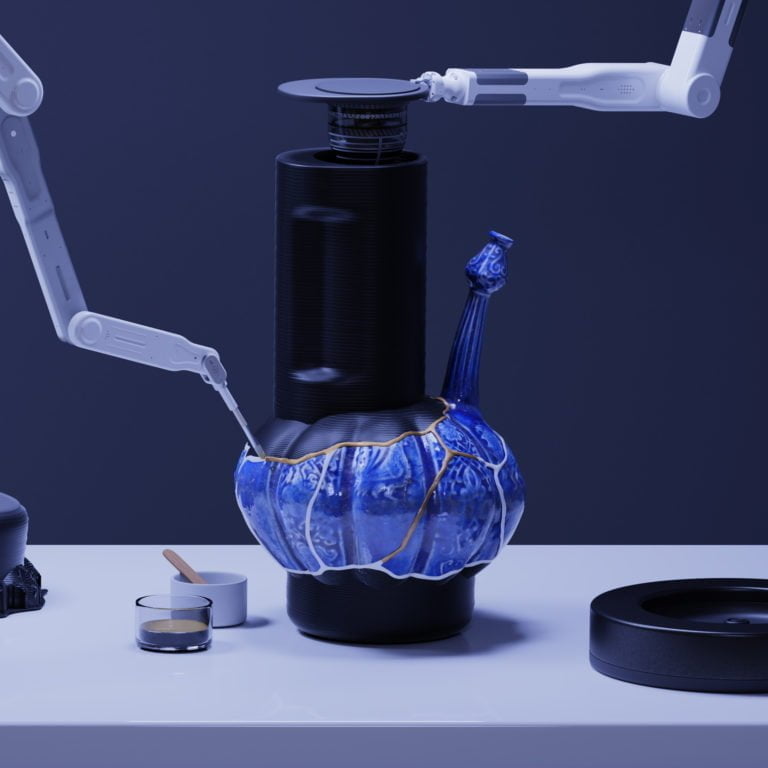 The ancient Japanese art of Kintsugi – which translates to "join with gold" – perfectly embodied the spirit of these objects. Through repair and reconstruction, these ancient objects were reimagined with enhanced features and upgraded value than the original. The Upgrade process made the object remain similar but distinct. The new technologies integrated into it address various relevant challenges today and in the future.
This project was formed by pursuing high-quality 3D models of ancient cultural artifacts scanned and found in the Minneapolis Institute of Art and Malopolska's Virtual Museums. Each NFT in the Kintsugi Upgrades was modeled from real-life ancient artifacts from different cultures and historical periods in other parts of the world. Each design's strength is seeing the beauty of the original historical object reimagined with futuristic functionality and advanced technologies yet to exist.
Our process to rebuild and upgrade begins with an initial assessment of the original object, scanning the fractured parts to reconstruct all puzzle pieces digitally. We analyzed the impairments and what could be salvaged and began reassembling them with new features and components that a more advanced society might have. Imagining an ancient world revived with modern technology has been a driving theme in our NFT series. This series represents a clash of the old and the new but ultimately works in service of the future by creating objects that will populate virtual worlds.
Our NFTs show the innovation behind turning physical assets into digital commodities and the plausibility of transitioning more of our lives from the physical world into the digital. We created objects that will populate virtual worlds while blurring the boundaries between the ancient and the novel. We are compelling the design discipline to consider how utility and functionality will play a role in digital spaces while sparking the conversation of accessibility within the digital realm.
NFTs are digital versions of rare assets that maintain great value. Merging significant ancient artifacts with futuristic functionality is the driving theme and purpose of the Kintsugi Upgrades. This NFT development is something we have not seen anywhere, making them a valuable asset in the past, present, and future.
Kintsugi Upgrades is an NFT series sold on the OpenSea site at a fixed price with plans for auctions in the future.