Imagine you're in the refrigerated food aisle of your local supermarket. On the shelf in front of you are two different brands of burger patties. One label tells you the patty was produced with organic ingredients; the other one says it is locally produced and wrapped in recycled plastic. Those all sound like great improvements … But which one is actually making a measurable difference for the planet? And can we really trust the claims on the labels?
It's this lack of verifiable product information and transparency—which in turn impacts trust, safety and fairness for millions of people—that inspired the ReCarbonX team to found the company in 2020. And, in 2021, the concept became a reality when it was installed—and audit-approved—in a food processing plant in Bulgaria.
The System
ReCarbonX AG is a product eco-footprint tracking system that can track and measure carbon footprint on a per-product basis using the data collected along even very complex value chains. It enables real-time proof of Quality compliance, Track-and-Trace and Life-Cycle Assessment (LCA), reflecting any changes made along the chain immediately.
How does it work?
ReCarbonX functions like an overarching umbrella system or 'digital twin' of production processes that works alongside—and integrates with—existing company ERP systems (even multiple partner companies' systems!) along entire complex chains. All data is stored on a distributed digital ledger (blockchain) with smart contracts for security and transparency.
The kinds of data the system collects include: documents and reports, the type and origin of raw materials and percentage of recycled materials, water use, the type of energy used during processing and for the cooling chain, types of fuel used for transport and logistics, and the distance travelled for delivery. The system also calculates the footprint of the processing plant itself, and can verify the social impact of ingredients—whether they were ethically sourced and produced under fair conditions.
Sensors provide auditors with real-time access to reliable and transparent data from any location, without the need for physical in-person visits to the plant, thus saving on resources and supporting efforts towards employee health and safety during the global pandemic.
The food processing plant in which the system was installed is now able to immediately correct for mistakes at any point in the chain, thus preventing the kinds of larger-scale errors that lead to high food waste. They were also able to include and upskill 40 of their personnel to transition to innovative technologies, to reliably track worker safety and hygiene measures, as well as ultimately supply consumers with proven quality-controlled products. The upskilling of factory workers is critical to a just transition for all during the move of global food systems towards innovative digital environments.
The project showed that the daily reduced load on the managers' administration tasks (in total 8 hours/day) enabled their time to be reallocated towards training and the planning and implementation of sustainability-focused initiatives such as expanding the range of products to plant-based meat alternatives, and resources to be redistributed towards implementation of solar panels for the plant.
Value made visible for customers
The end result of a ReCarbonX installation across a value chain is that producers will be able to add a QR code to their product packaging, which buyers can scan to see any data the producer chooses to make available, such as per-product eco-footprint, any relevant sustainability improvements, and industry comparisons. Rather than general stamps of approval and sustainability claims or certifications, the ReCarbonX System provides real-time LCA calculations and verifiable data presented in easy-to-understand visualizations.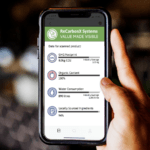 The ReCarbonX system has been designed to work at any scale, across different industries—from food and fashion to shipping and automotive, chemicals and construction—and to aid in the transformation of urban life with Smart Cities.
https://youtu.be/yYh74sGjGGo (A Tale of 2 Burgers)