The travel industry has gone to great lengths to cultivate its online presence. The use of technology in the travel industry has revolutionized the travel experience for holidaymakers and tourists, business travelers, gap year students, digital nomads – everyone and anyone who wants or needs to travel. Travel technology has made access to information and the ability to book travel requirements far easier, more convenient, and more personalized than ever. Traveltech in the crowd economy has even widened the choice of modes of transport and accommodation, with the likes of Uber and Airbnb. Though there are some traveltech issues that travellers should be aware of.
Online bookings and other traveltech advantages
People can book their travel online with just a few clicks. This has reduced the need for travel agents and made it more convenient for travelers. The online travel market was estimated to be worth 475 billion U.S. dollars in 2022, with an anticipated rise to $591 billion in 2023. By 2030 it is forecast to be worth over $1 trillion.
Market cap of leading online travel companies worldwide, December 2022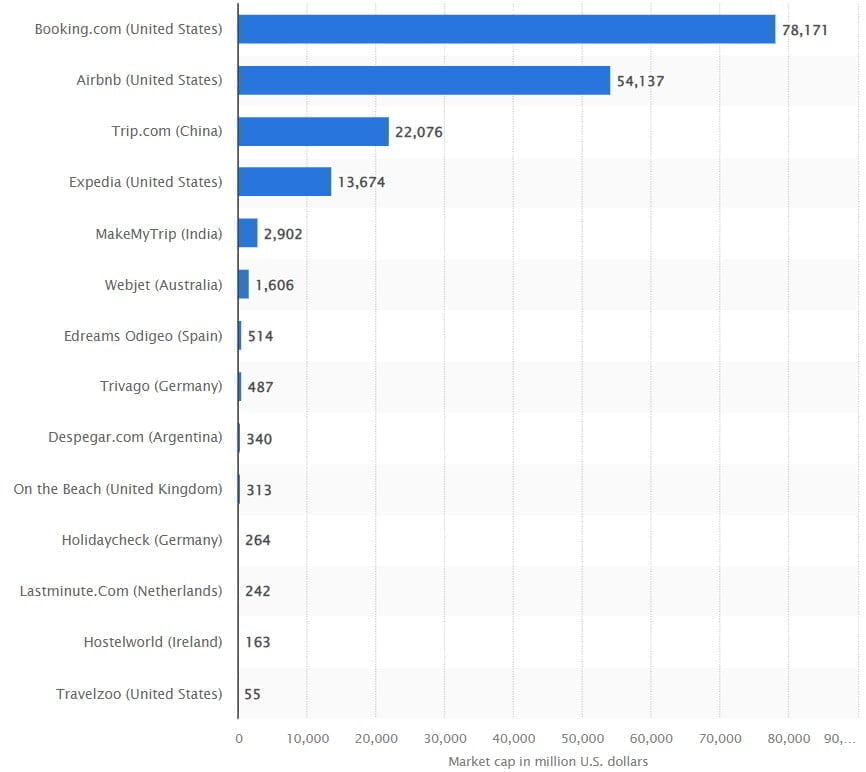 The development of mobile apps also allows travellers to book, carry their tickets, and manage their trips from their smartphones. These apps can provide real-time information about flights, hotels, and other travel services.  The global revenue of travel apps is expected to rise from 2022 to 2023 by 17%, amounting to nearly $400 million.
What we book is influenced by the reviews we read, posted by other travelers on travel websites that may also offer travel booking options, like Tripadvisor. In the absence of a travel agent's recommendations, peer group influence provides us with "crowd wisdom."
Through the use of artificial intelligence and machine learning, traveltech has made it possible to offer personalized recommendations to travelers based on their preferences and past travel experiences. Virtual and augmented reality technology allows travellers to experience destinations and attractions before they even arrive.
 There is even traveltech that means not making a journey, promoting sustainable travel by offering eco-friendly travel options and reducing the carbon footprint of travel through online meetings and virtual events.
Companies leading the way in traveltech
There are many companies that are leading the way in the development of traveltech, from large tech companies to smaller startups. Here are some examples:
Airbnb has disrupted the travel industry with its online platform that connects travelers with hosts offering short-term rentals. On the day of its IPO in December 2020, without owning any hotel rooms, it was worth more on the stock market than the world's three biggest hotel groups combined. People around the world have created accommodation solely to let out using the technology of Airbnb's booking system. The company has a plan to return to more use of rooms within people's homes, and is also developing new technologies using virtual reality and machine learning to enhance the user experience.
Booking Holdings, which owns brands such as Booking.com, Priceline, and Kayak, is a major player in the online travel booking industry. The company is investing in new technologies, such as AI and machine learning, to improve the booking process and provide more personalized recommendations. I use Booking.com on a regular basis. It knows my preferred types of accommodation and rewards me with regular user discounts, making the booking process easier and improving its value to me.
Expedia Group is another major player in the online travel booking industry, owning brands such as Expedia, Hotels.com, and Vrbo. The company is investing in new technologies such as VR and AR to enhance the user experience and make travel planning more immersive.
Hopper is a mobile app that uses AI and machine learning to provide personalized flight and hotel recommendations, and predict future prices. It doesn't just let people book flights, hotels, and car rentals from their mobile devices, it also tells users when is the best time to book them.
When we arrive at our destinations, traveltech can provide us with guides and insights to both the popular and the less obvious attractions, sights, activities and experiences. Companies including GetYourGuide can put a local person's expert knowledge in our mobile device to access at any time.
The traveltech company Travelport provides booking and distribution services for the travel industry. The company is investing in new technologies, such as blockchain and biometrics, to improve security and streamline the travel experience.
These are just a few examples of the many companies that are driving innovation in the traveltech industry.
What is the future of traveltech?
The future of traveltech is exciting and promising, as new technologies are being developed to enhance every aspect of the travel experience. Here are some of the trends and advancements that are likely to shape the future of traveltech.
AI and machine learning algorithms will continue to be developed and refined to provide more personalized recommendations and trip planning. These technologies can analyze vast amounts of data to provide customized travel experiences based on factors like individual preferences, budgets, and travel history.
As AR and VR continue to improve, more travelers will be able to more easily experience destinations and activities virtually before booking a trip. This will help them make more informed decisions and enhance the overall travel experience.
 Blockchain technology is already being used to streamline payment processes and reduce fraud in the travel industry. In the future, it could be used to create a more seamless and secure travel experience, with identity verification and smart contracts.
Biometric technology, such as facial recognition and fingerprint scanning, is being used to enhance airport security and streamline the check-in process. In the future, it could be used for other purposes, such as providing personalized recommendations based on biometric data or facilitating seamless border crossings.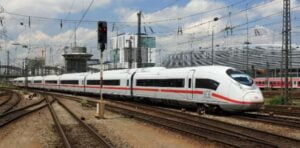 Climate change is a growing concern for the travel industry, as the industry is a major contributor to greenhouse gas emissions. Sustainable travel will continue to be a focus and traveltech will play an important role in promoting eco-friendly travel options and reducing the carbon footprint of travel. Partly through higher awareness of carbon emission issues, train travel is enjoying steady growth in Europe. Trains are increasingly regarded as an alternative to aircraft on short haul routes, and it has led to a resurgence of overnight sleeper trains. Train companies including the German operator Deutsche Bahn are looking at future staff recruitment issues given the transformation of work roles due to technology.
What threats and risks are there for travel technology?
Overall, the future of traveltech is about using technology to create a more seamless, personalized, and sustainable travel experience for everyone. However, like any industry, traveltech faces a range of threats and risks. Here are some of the main ones:
Cybersecurity
Traveltech companies collect and store large amounts of personal and financial data, including banking and passport details. Consequently, they are targets for cyber attacks and can suffer data breaches. A security breach can result in sensitive information being exposed or stolen, leading to reputational damage, legal penalties, and loss of customer trust. There can also be privacy issues if a company wants to monetise its customer database.
Regulatory challenges
The travel industry remains subject to a range of regulations at the local, national, and international levels. Compliance with these regulations can be complex and costly, and changes in regulations can have a significant impact on the industry. Travel restrictions implemented during the Covid pandemic clearly demonstrate this point.
Economic downturns
Whether bookings are made through a travel agent or using traveltech, the travel industry is particularly sensitive to economic downturns, as consumers tend to cut back on discretionary spending during tough times. A recession or economic crisis can lead to decreased demand for travel, and traveltech companies may struggle to survive if they are not well-capitalized or have high fixed costs.
Disruptive technologies and technical glitches
While traveltech companies are developing innovative technologies to enhance the travel experience, disruptive technologies from other industries can also pose a threat. For example, the rise of remote work and virtual events could reduce the demand for business travel. Traveltech can also be prone to technical glitches and system failures. This can cause delays, frustration, and even missed flights.
Over-reliance
In some travel companies, over-reliance on technology has removed the opportunity to ever actually speak to a person to resolve any issues. There's only so many times a frustrated traveller can cope with a chatbot asking for a simpler explanation of a problem, and not coming up with an appropriate response. For example, if airline tickets can be booked in just a few minutes, why can it sometimes take months to get refunds due to cancelled flights? 
Climate change
Climate change, as already mentioned, is a growing concern for the travel industry because the industry is a major contributor to greenhouse gas emissions. According to the World Travel & Tourism Council, the travel industry generates between 8% and 11% of the world's greenhouse gas emissions, mostly from transportation. As consumers become more environmentally conscious, they may be less likely to travel or may demand more sustainable travel options, as witnessed by the increase in rail travel in Europe. Traveltech companies will need to adapt to these changing trends to remain relevant.
These are just a few of the threats and risks facing the traveltech industry. As the industry continues to evolve and grow, new challenges and opportunities are likely to emerge as well.
Traveltech is a new category in the fifth edition of the BOLD Awards for innovation and breakthroughs in over 30 categories of digital industries, opening soon for entry submissions.