Maria Ressa, the journalist founder of the Philippine news organisation RAPPLER, and BOLD Awards 2019 winner, was speechless when she learned of her Nobel 2021 Peace Prize. She was taking part in a virtual panel discussion on journalism in south-east Asia. Ressa was on-screen answering a call from the Norwegian Nobel committee that informed her she had won. Her reaction was one of visible shock, and she briefly left the panel to continue the call more privately. Until June this year she was under threat of imprisonment for cyber libel.
Ressa was born in the Philippines, raised in the U.S., and returned 'home' in the 1980's after the downfall of Ferdinand Marcos. She had worked as a journalist for media companies including CNN, and founded RAPPLER in 2012. RAPPLER is a social news network that crowdsources stories to inspire investigative journalism, community engagement and digitally fuelled actions for social change in Indonesia and the Philippines. In 2019 Maria Ressa received a special BOLD Award for her work as CEO and Executive Editor at RAPPLER to protect freedom of expression.
Increasingly critical of the ruling President Duterte, she was arrested in June 2020 on a charge of cyber libel related to an article written originally in 2012. The law had been introduced four months after the article had been published. After a spelling mistake in the article was corrected in 2017, a businessman filed a cyber libel three months later. This was declared valid when a Philippines' court ruled that the correction constituted re-publishing the article.
In June 2020, Ressa and many RAPPLER colleagues were convicted of cyber libel, and she was handed a six year sentence, subject to appeal. The media outcry at the time was joined by former U.S. First Lady Hillary Clinton who tweeted, "We must fiercely protest attacks on the press. They are attacks on democracy." A Philippine judge begged to differ, declaring that freedom of the press within investigative journalism "cannot be used as a shield" against libel. The charge against her was finally dismissed on June 1, 2021.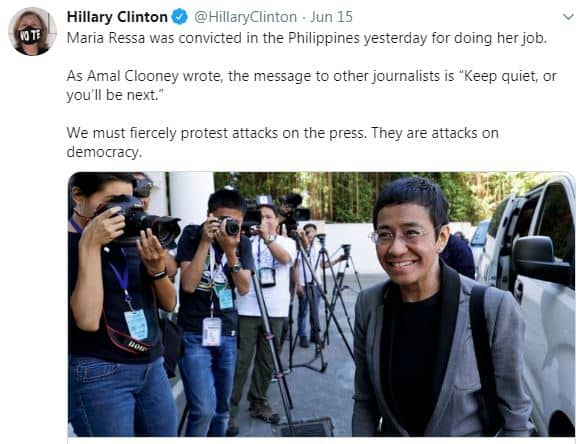 Responding to the Nobel peace prize win, Ressa said on Rappler's Facebook page: "This is a recognition of how hard it is to be a journalist today. How hard it is to keep doing what we do … It's a recognition of the difficulties, but also hopefully of how we're going to win the battle for truth. The battle for facts. We hold the line."
Berit Reiss-Andersen, Chair of The Norwegian Nobel Committee 2021, said: "Free, independent and fact-based journalism serves to protect against abuse of power, lies and war propaganda."
We add our own "Congratulations, and be BOLD!" Entries are open now for the 20 categories of BOLD Awards 2021. A gala dinner award ceremony will take place at the campus of H-FARM in Venice, Italy, on April 22, 2022.
Main image: Maria Ressa addresses students at Princeton in 2019. Image source: nobelprize.org