The annual motor show at Pebble Beach, California, is a gathering of rare and antique automobiles. This year, on 21st August 2022, it will host the launch of a new DeLorean car, 40 years after the collapse of the former British car making company. The original distinctive DeLorean DMC-12, the car maker's one model, was heralded as an innovative breakthrough in 1980, and its new incarnation continues in the same vein. Not only is innovation visible in the new DeLorean car itself, but also in driving its BOLD and mold-breaking development process. The DeLorean relaunch is going to be news all over again.
DeLorean's history
Between 1980 and 1982 the DeLorean Motor Company in Northern Ireland, United Kingdom, produced almost 9,000 of their V6 rear-engine cars, with its distinctive gull wing doors and unpainted, rust-proof, stainless steel body. It made the headlines, but failed to last.
Its launch coincided with a rise to 10% annual inflation, and an oil price hike that sent US gasoline prices over $1 for a gallon for the first time ever. Some of its rivals seemed to be better value, and were made by established manufacturers that were more likely to stay around longer. The DeLorean company collapsed, and its founder John DeLorean passed away in 1985 after clearing himself of charges of drug dealing that was allegedly an attempt to raise finance to save the business.
That might have been all there was to the DeLorean car story if the DMC-12 had not been featured in the 1985 to 1990 "Back To The Future" film franchise, which bestowed the car with cult status.
DeLorean relaunch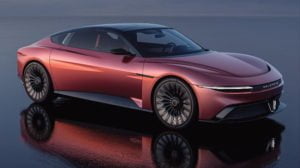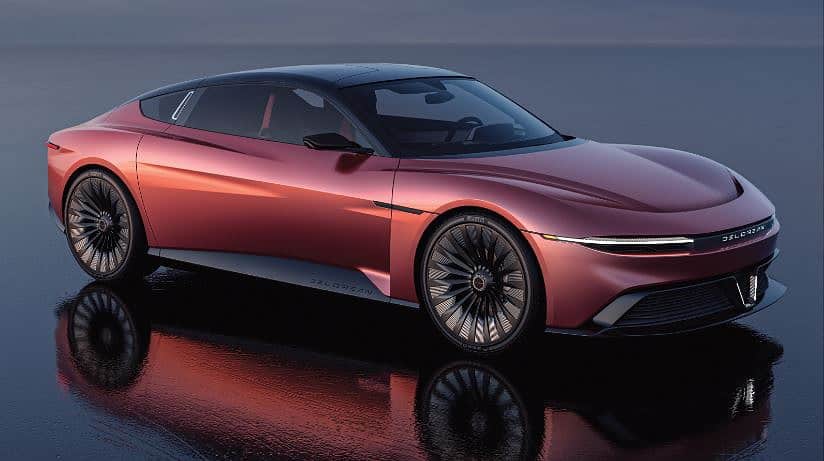 The first model to go on sale under the revived marque will be the Alpha5, an all-electric four seat coupe, due to roll off the production line in 2024.  The DeLorean relaunch at Pebble Beach, however, will feature seven DeLorean vehicles. Two, a sedan and an SUV, may make it in to production. The others fill the 40 year gap from 1982 to 2022 with representations of what might have been developed had the original DMC-12 model achieved greater success.
We were very fortunate to share some time talking with Troy Beetz, DeLorean's CMO who describes himself as an "exceptionally seasoned" motor industry stalwart, who filled us in on the thinking behind this process.
Counterfactual product development in the missing years
To be more than a one-off model for a second time, Troy believed the brand needed a bigger DNA. Had the first DMC-12 been more successful and the company had stayed in business, what would have come next? What would success have looked like? He did vast amounts of his own research into this, studying reports of auto shows, Car of the Year award winners, other cars featured in movies, and wider popular culture, to build a product development timeline that had not happened.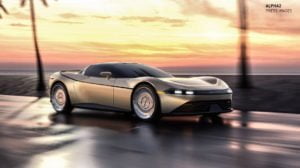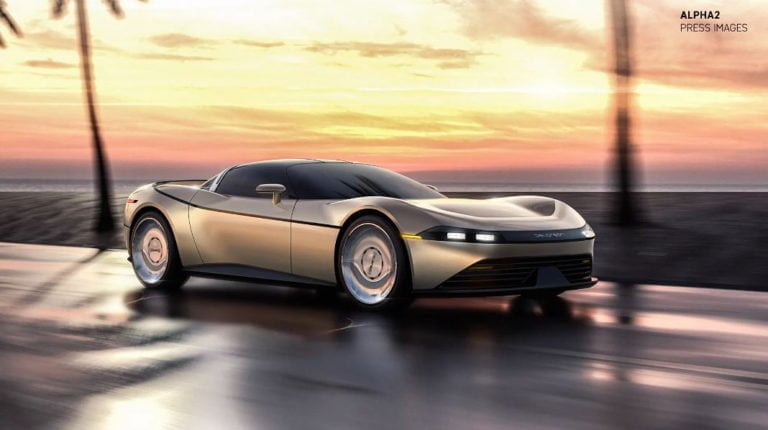 Innovation driving the DeLorean revival included Troy shortlisting three international design houses, and he challenged them to answer these same questions themselves in order to earn the privilege of designing the new 21st century incarnation. He awarded the contract to Italdesign, an Italian company that provides design, engineering and production for the transportation industry. Between them they settled on a DeLorean roadster in 1990, a 2000 sedan and a 2020 SUV. Each of what these three vehicles could have looked like will be displayed at Pebble Beach, alongside an Alpha5.
Updated versions of the sedan and the SUV will go into production if the Alpha5 coupe sales perform well enough. The presentation of a range of vehicles at Pebble Beach will also dispel any lingering impressions that John DeLorean the man was bigger than the DeLorean brand.
Launch plans
There will initially be 88 Alpha5s built, capable of 150 mph and not street legal. Further innovation driving the DeLorean revival will link them to NFTs. The significance of 88 is that it was the miles per hour speed the flux capacitator had to reach in the films to launch time travel mode. Subsequent Alpha5s after the first 88 will be roadworthy and street legal. Prices will be announced at Pebble Beach later this month.
What's in the future beyond 2024?
If this product development process wasn't already innovative enough, what will future versions of the past sedan and SUV models that were never actually built consist of?
For a start, they will be electric or hydrogen powered. And today is of course all about connected cars, digital systems that allow a car to share internet access, and hence data, with other devices both inside and outside the vehicle. GPS systems, traffic alerts and Waze updates are already with us. IoT connections will let motorists adjust household lights, heating, switch on ovens, defrost meals, and much more. Yet DeLorean are going to minimise "in your face" tech by building much of it in to operate ambiently without a host of screens to monitor.
There will also be a very human element to the new DeLorean vehicles. At times in his career, Troy Beetz had long commutes to work, sometimes a round trip of three hours a day. On too many of those days he was in his car for more time than he could spend with his children. Innovation driving the DeLorean revival includes smart seats that will allow the driver to feel the rhythmic heartbeat of a loved-one via a monitor they wear, or the heart rate could be visible on screen to either feel or see when they are getting excited or energetic, or calm and at rest. The driver's seat can also be set to someone else's ambient temperature, and people will be able to send a message to the seat to move around the driver to simulate a hug. That's connecting, and using DeLorean relaunch tech to keep us in a human-centered future.
Have you a design innovation story to share with us? It would be great to hear it. BOLDest Design is one of our 30 categories in the BOLD Awards IV, which is open now for entry submissions.