Many health services in advanced nations face similar problems of staff shortages, funding shortfalls, and increased demand from aging populations. How much can medtech and healthtech innovation contribute to improved detection, prevention and treatment? FundamentalVR is at the forefront of harnessing virtual reality. Through incorporating sense of touch haptic technology, the healthtech VR company aims to create the world's first global, low cost 'flight simulator for surgeons' where they can feel as well as see what they are doing. We are grateful to CEO Richard Vincent for explaining more to us about this.
Richard, please tell us about your journey, and what inspired you to move into VR?
I spent the last 30 years in advanced technology, across a number of different sectors, starting in computer gaming, and then in mobile comms. I spent a long time in the mobile world, then I devoted the last 10 years of my life to immersive technology and the medical sector. Coming out of the mobile world I was looking for an opportunity where advanced technology could be disruptive, and I landed on the use of immersive technology, and particularly healthtech VR. That became the area of focus that we would apply ourselves to, with a plan to then take the experience we acquired within the medical space to other sectors, and build up from there.
What specific problem or challenge are you aiming to address through FundamentalVR? 
There are three key challenges here, based on the fact that in any field of medicine there's just so much to learn. Human bodies are diverse, and very complicated. Even today, with all the advances we've made, and through using healthtech VR, we still only understand a small part of how they operate.
So the first challenge Fundamental VR's "Fundamental Surgery" platform addresses is the volume of knowledge acquisition, and particularly in surgery there's just such a lot of things to learn and remember. 
The second one is that there are not many instances within which someone can acquire that knowledge. It's hard to access places beyond a book or film or recording to actually get close to the real instances of surgery for surgical learning. Most of it happens in an operating room. 
Third, the process of using the acquired knowledge is really important. The phrase "practicing medicine" is very true. Most surgical skills are developed and learned in a live patient environment, which comes with inherent risks to the patients, and also to the practitioners if they get anything wrong. 
So the primary areas that we're focused on are really helping with vast knowledge acquisition, and then opportunities to have access to a safe place where skills can be developed. 
How does FundamentalVR ensure that its simulations are accurate and realistic for surgeons?
Fundamental VR has a really big medical team packed with expertise in the areas we operate in. We bolster that with a global medical panel of leading experts, practicing surgeons and educators who are working with patients every day. These two factors are the power base that we use to ensure that we've got the greatest amount of accuracy and the greatest educational value in things that we're doing.
We then work with opinion leaders. Our customers are predominantly medical device and pharmaceutical businesses that rely on key opinion leaders to help develop and bring their products to market. So we work with their experts, we plug them into our experts. Together they work out exact methodologies and the exact learning objectives in areas we need to measure, plus the materials that we need to create when it comes to 3D model representations in healthtech VR. 
This is very complicated because it's not only what things look like, but how they behave. How does tissue deform and how does it bleed? We're also dealing with the physical side of it, so how does it react to touch? How does it react to intervention? If you insert something in it how does it change? It's a big challenge to do that. 
We've been working at this for eight years now and have built a great big library base, plus a great experience base, and then we lean on those experts in the market to give us that final accuracy. Knowing that we're accurate is really important, which is why we've gone off to organizations like the Royal College of Surgeons in Europe, and the American Academy of Orthopedic Surgeons in the US, and have them accredit the accuracy and the educational value of the products that we produce.
What's the feedback you receive from surgeons and other medical professionals who have used the FundamentalVR platform?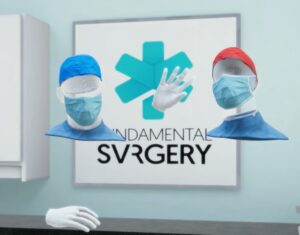 Without exception, it's really, really positive. When it comes to learning, acquiring and fine tuning skills, whether that's at the beginning of someone's career or many years into it, when they're doing continuous professional development, access to good safe places to acquire those skills, learn and use them are difficult to find. It's expensive, and it's logistically challenging. Surgeons love our healthtech VR system because we remove the friction. They can take our system home and use it at their leisure. Or they can use it within their department without having to go somewhere else. And teams can get used to working together.
There's always a small group of people in any technology who say it's not for them, but generally, the reaction is incredibly strong. Within the surgeon base coming through during the last 10 years, and which will continue over the next 10 to 20 years, we're seeing even more predisposition towards using technology to learn and acquire new skills.2
How do you envision the future of surgical training education, with the integration of VR and haptic technologies, given the fact that Apple has launched Vision Pro?
Our vision is really clear, and it's completely detached from hardware technology: it's about getting to a point where someone has what we call "pre-human competence." It's about people feeling happy with their knowledge and skills before they interact with a human being. That's really where I see the destination for the market and for our platform, getting to the point where you can truly assess yourself or be assessed on how good your skills are, how they're developing, how you can refine and develop them further without having to interact with a live patient.
What role do you think immersive technology like VR and AR will play in healthcare beyond surgical training?
It's already taken quite a big step into the whole area of healthcare. Before any procedure, or before diagnosis, there will normally be a consultation and assessment process. This requires soft skills that need to be taught, and that can be through simulation in a virtual world.  We're seeing this already with companies providing services where they roleplay with different patient situations, such as diagnosing a particular patient condition, or delivering difficult or bad news to a patient. 
Past the consultation period is a pre-planning stage where 3D visualization is really key. Most 3D visualization happens on a 2D screen, so moving into a truly spatial environment lifts capabilities. That can be within a full immersive space, like virtual reality or in a mixed reality space, so that medical practitioners can be in the same room with a virtual patient and plan together while using a full 3D model.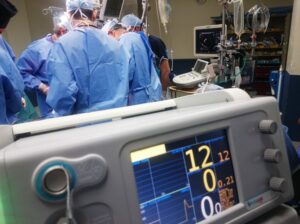 The next stage is intraoperative, occurring during the course of a surgical operation. Within the immersive space it's possible to remove distractions. For example, a medical practitioner inserting a catheter through someone's venous system is going to be constantly looking between screens above the patient and at what they are doing. Using immersive tech, we can bring all of that vision in front of the practitioner at the time when they're doing it, so that they have one field of vision in 4k retina display screen resolution, or better. In fact, the Apple product talks about having nearly 6k per eye within it. 
In the post-operative, or post-treatment stage, there is patient adherence, patient therapy and patient recovery. Immersive tech is taking a significant role, and it has been proven to help with a reduction in pain relief medication, with aversion therapy and with meditation therapy. It can be shown to help the patient understand why and how they need to take their meds.
So there are enormous amounts of areas for potential use of healthtech VR. I believe we're seeing the biggest and fastest development in healthcare professional training and education, and it's starting to develop across all of the other areas as well. 2
What advice do you have for aspiring entrepreneurs who are interested in developing innovative technologies for the healthcare industry?
I think the first piece of advice is to make sure that you work with some great end-user experts who are dealing with these problems day in, day out. There's so much technology that's created for the healthcare market that doesn't really focus on the use case problem, so be with end users who really understand the problems they're trying to deal with.
Once you've got that, particularly in the surgical space, working out where the technology sits in the workflow is probably the most important part. If you can't get it to fit seamlessly in the workflow, it won't be used. 
FundamentalVR received three awards at the fourth edition BOLD Awards in March 2023. No other company has ever received three awards in one edition. What was it like to receive this news, and what was the reaction among your teams and customers?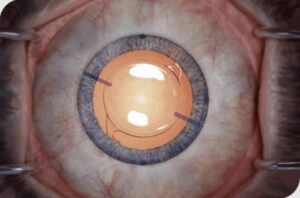 It was amazing, we really didn't expect it. We were delighted. It was great to see how much the team loves external recognition. What's probably the proudest part is that each entry was based on an actual customer use case. So not only was it a great reflection of the work we're doing, but actually also what our customers are doing in the real world with our systems. The impact that some of those technological developments are having, such as cataract surgery in the third world, is quite literally life-changing. To be recognized for them is fantastic. 
Numerous clinical studies have been carried out to validate the efficacy of virtual reality in training and evaluate the utility of haptics in VR medical simulations. An example is a study at St George's University Hospital, London UK, which found that FundamentalVR's haptic technology significantly increased performance in the tibial bone drilling task compared with the non-haptic virtual reality simulator. It concluded that healthtech VR with haptic feedback produces safer drill depths with reduced risk of injury to neurovascular structures. Objective structured assessment of technical skills (OSATs) ratings was also significantly improved in the haptic group. This study provides evidence that implementation of haptic feedback within surgical simulators delivers a more effective and immersive experience for surgical trainees.
Entries are open now for 33 categories of digital industry, and the technology that powers them, in the fifth edition of BOLD Awards.