Despite the need for cybersecurity to respond to a growing number of cyberattacks, the cybersecurity industry has not scaled adequately to meet the task. In recent years, cyberattacks have become both more disruptive and more common. IBM's Security X-Force recorded almost a 25% rise in cybersecurity incidents that engaged its Incident Response team from 2020 to 2021. Another source, research by Check Point Software Technologies, showed a 50% increase in overall network attacks per week in 2021 compared to 2020. 
While external factors and opportunities have multiplied, the finite number of security professionals specifically trained and skilled to respond to cybersecurity incidents has not grown at the same pace. What should organisations do?
A recent global cyberattack
Here's an example of the scale of the issue. Italy's National Cybersecurity Agency warned on February 4, 2023, that hackers have been targeting a two-year-old VMware server software vulnerability in a ransomware campaign. The cyberattack exploited a known software vulnerability that has been patched two years earlier. The as-yet-unknown culprits have been demanding ransom payments in bitcoin equivalent to $19,000 from each victim. They have targeted companies in the US, Canada, and across Europe, including Italy, Germany, and France. More than 3,200 servers have been affected.
The ransomware attack could not have come at a worse time for VMware. It is currently the subject of a major acquisition by US chip manufacturer Broadcom. Although the deal has already been approved by regulators in Germany, France, Brazil, and Canada, other antitrust regulators in the US and Europe are concerned the deal could concentrate ownership too much on both sides of the data storage process, and prevent competitors from using industry-standard software. The companies say it would be a poor financial decision to limit competitor access to VMware's software, citing that IBM keeps its Red Hat software open-source.
Business sectors most at risk
Ransomware attacks can affect any organisation or sector, but some business sectors are considered more at risk due to their handling of sensitive information, reliance on digital systems, or underinvestment in protection. In general, sectors that are most commonly targeted by ransomware attacks include:
Healthcare organisations are often targeted due to the sensitive nature of patient information and the critical importance of their systems and data.

Financial services are at risk due to the large amounts of valuable financial data they store.

Governments are often targeted due to the sensitive nature of their data and the critical importance of their systems and infrastructure.

Educational institutions often have large amounts of sensitive personal data and are a target for ransomware attacks due to their limited security budgets and resources.

Legal firms often handle sensitive client information, making them a target for ransomware attacks.

Technology companies, including software development firms, IT service providers, and cloud computing providers, are at risk due to their reliance on digital systems and the sensitive data they handle.
More specifically, in 2021 IBM Security X-Force observed that cyberattacks against energy companies quadrupled from 2020. Manufacturers experienced more ransomware attacks than any other industry – from food manufacturers to medical devices, cars and steel manufacturers. In Asia, financial services and manufacturing organisations together experienced nearly 60% of reported attacks in 2021.
How can preventive cybersecurity measures protect organisations?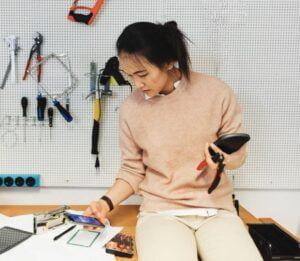 The growing pressure on cybersecurity operatives makes it more important than ever that organisations take preventative measures. A global survey of over 1,100 cybersecurity incident responders, sponsored by IBM Security, showed the high demands put on them had left 67% experiencing stress or anxiety in their daily lives. Insomnia, burnout and a negative impact on social life or relationships follow. Longer-term, more security professionals can be trained. What can be done in the short term?
Preventive cybersecurity measures help organisations of all sizes to protect themselves from potential cyberattacks by implementing a proactive approach to security. The most common measures include:
Strong password policies that encourage the use of strong, unique passwords and regular password updates.

Implementing firewalls, virtual private networks (VPNs), and other network security technologies to protect against unauthorized access.

Endpoint protection through installing anti-virus software and maintaining it regularly to protect against malware attacks.

Regularly backing up important data to ensure that it can be restored in the event of a successful attack.

Regularly identifying, assessing, and patching known vulnerabilities in software and systems to reduce the attack surface.

Implementing strict access control policies to ensure that only authorised personnel have access to sensitive information.

Multi-factor authentication (MFA) can decrease the risk of several different types of attack, including ransomware, data theft, business email compromise (BEC) and server access.

Regular training for employees to identify and respond to cyber threats, and promoting a culture of security awareness throughout the organisation.
By implementing these and other preventive cybersecurity measures, organisations can significantly reduce their risk of falling victim to a cyberattack in the first place.
Protection training from IBM
In 2021, IBM pledged to skill 30 million people worldwide by 2030, and through its SkillsBuild offering, learners can take free courses online in topics like cybersecurity, artificial intelligence, data analysis, and more.
IBM is currently offering four free courses focussed on data and cybersecurity that take just 10 hours to complete
Information Technology Fundamentals

Cybersecurity Fundamentals

Data Fundamentals

Artificial Intelligence Fundamentals

"We are focused on reaching people who have traditionally been left out of the tech sector: women, veterans, refugees, neurodivergent people, underrepresented minorities, and economically disadvantaged people," Lydia Logan, IBM global vice president for education and workforce development, told Fortune.
Wider inclusivity is a generic benefit of edtech.