While the current average lifespan of a US company on S&P's 500 Index is just over 21 years, the family-owned Swiss watch company Breitling had just five bosses in over 130 years. Breitling's origin as a provider of highly technical chronograph timepieces for the aviation industry, with both "industries" sharing an obsession for precision and performance, satisfied the criteria of heritage and reputation, exclusivity and elitism that luxury brand building requires. We'll look at how rebranding Breitling watches' unique story has transformed it in the past five years to maintain its aspirational luxury brand relevance to a new generation.
Breitling's story
Breitling's astonishing story, and its long-standing affinity with aviation, began in 1884 when it was founded by Léon Breitling in St. Imier, Switzerland. It was the same year that a dirigible (a powered and steerable hot-air balloon) took off from and landed successfully back at the same place; the first patent was issued for curved aerofoil wing sections; it was the year of the first controlled heavier-than-air unpowered flight in America. Timekeeping and aviation's shared obsession for precision and performance is because pre-digital aviators needed accessible, reliable and accurate timekeeping to navigate.
Soon after its launch in 1884, men's watches began to move from pockets to wrists, leaving both hands free to drive a car or fly an aircraft. Breitling created the first watch with an independent push-piece to control some other function than setting the watch hands or (at the time) winding it up with the crown piece. This added a separate timed duration facility, effectively a stop watch within a watch. The addition of a second push-piece made it possible to add together separate successive timings.
Breitling's precision timepieces and chronometers made their way in to  the cockpits of the British Royal Air Force fighter aircraft in World War Two, sharing some of the finest hours of aviation combat history.
The post-war availability of former military aircraft boosted the commercial passenger and freight  air travel industry. On-board navigation tools included cumbersome and impractical paper maps and sliderules. Breitling created its ground-breaking Navitimer in the 1950's, a wrist-worn device with a built-in sliderule that could handle all aviators' navigation-related requirements, and it was soon worn by pilots everywhere.
Breitling's historical and unique achievements continued. It supplied the first wrist-worn chronograph used by an astronaut orbiting Earth in 1962.
By 1984, ultra-thin quartz-powered watches were the height of fashion. Breitling took a brave step in the opposite direction, and with the help of a French aerobatic display team created the Chronomat timepiece that revived the whole mechanical watch market. In 1995 they also released the first wristwatch with a built-in distress signal transmitter.
The Breitling Orbiter 3, with a two man crew, completed the world's first global circumnavigation by balloon in 1999, creating another strand of intertwined Breitling and aviation history.
However, moving into the 21st century, the luxury brand slowly lost relevance among the current generation of digital native millennial shoppers, and a majority stake was acquired in 2017 by the private equity firm CVC Capital. Significant developments took place related to the product range and rebranding Breitling watches. Its marketing had to take in to account newer trends in inclusivity, sustainability, and dress-down casualisation. Let's take a look at those developments, based around the classic 4 P's of marketing, which for this article I have called Product, Placement, Pricing and Packaging.
Product range
A confusing range of over 600 products was reduced to 150, with new releases grouped in collections of 15 to 20 models each under three main Air, Sea and Land categories.
As a significant part of its rebranding Breitling introduced specific women's collections.
Placement
Physical store placement
The number of retailers was reduced to keep the ones that would most invest in the Breitling brand, yet at the same time they expanded their own retail outlets to better control direct customer relationships, and to add more focus on Asia (principally China).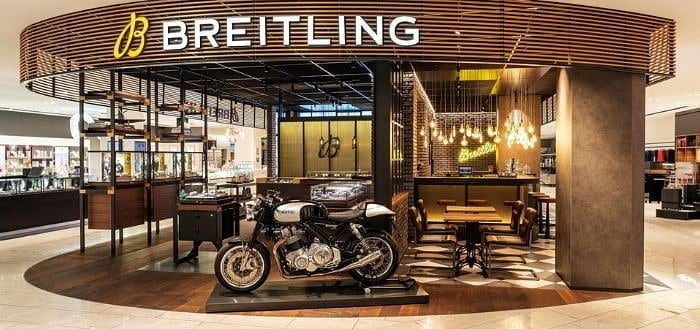 Since 2017 their own stores account for 30% of revenue, double the 15% it was before.
The physical stores are now also a portal for better direct customer relationships in an aim to generate sales from their 80% of store visitors who do not make an initial purchase. Using machine learning algorithms, the luxury brand Breitling now has such a granular view of consumers online and offline that it knows the best times to write to different people – weekdays, Saturdays, Sundays or evenings. It can also tell who prefers written content and who prefers visuals, and adapt the messaging accordingly.
Brand positioning placement
Rising awareness and unacceptability of social inequality led to rebranding Breitling watches away from its historical highly technical and capital-intensive leisure heritage (including aviation) and in to wider participatory and new tech sports of surfing, triathlons, cycling and drone racing.
Partnership with a gaming app popular with Gen Z digital natives included Breitling watches from a women's collection as prizes.
Luxury brand pricing
The average price was kept at $6,000, with a top price of $30,000, maintaining its luxury brand price point. In real terms, this means they became more affordable, yet maintained their aspirational price tag.
Additionally, in a flexible product trial and payment programme, subscribers to BreitlingSelect can try up to three Breitling watches, delivered to their home, from a dedicated portfolio within a 12-month period. After registering and signing a 12-month contract, participants pay a one-time subscription fee of $450 with subsequent monthly payments of $129. They are able to purchase one of the three watches as part of a special offer.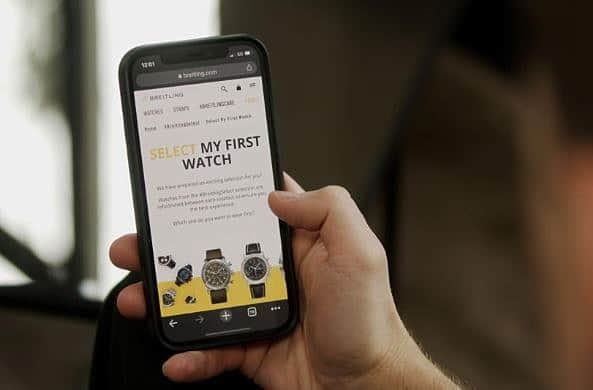 As well as reducing the entry price to new purchasers, it is clearly also a move towards building relationships as well as encouraging transactions. Registered subscribers will be constantly generating attention paid to a new Breitling product, and thus perform a role as valuable brand advocates.
Packaging – and its lead-in to wider sustainability
ESG criteria mean more to more people than ever before. Rebranding Breitling has included reducing its carbon footprint through measures including use of recyclable packaging and artificially-grown diamonds.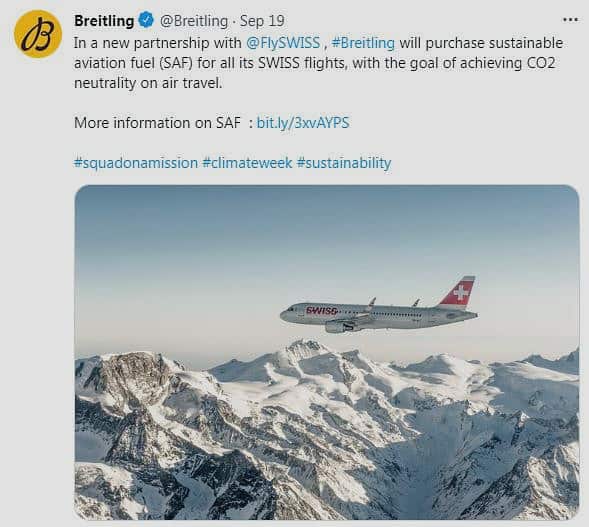 Breitling co-branded a limited edition chronograph with NGO Ocean Conservancy.
Breitling now issues an NFT passport for each watch. Blockchain-based ownership registration supports an aim to manage its own pre-owned business and bypass third party platforms. This includes buying back its products, plus other brands, for vouchers that are redeemable against its new models.
It is also working with its suppliers to include them in the blockchain as verification of authentic provenance.
The 4 P's of Marketing can be applied to modern marketing and branding, even though it came into use decades before digital connectivity, online marketplace platforms, social media and data analytics that have been used for rebranding Breitling. What powerful brands can you suggest we take a look at that have transformed their branding and marketing approach?