The Diesel branding has become a flag bearer of individuality, creativity and innovation in the world of fashion. However, every global brand that is now ruling the fashion world has a beginning – a starting point from where it kicks off its journey, finds its unique path and leaves a trail for other budding brands to follow. Let's take a closer look at the successful trajectory of the Diesel brand story and its founder, Renzo Rosso. 
Diesel's origins
In the 1970's, denim transformed from work clothes to high-fashion items, influenced by contemporary cinema and a music culture that gave it an association with "youth rebellion" and independence.  
The higher prices that brands could then charge for denim clothing attracted many new entrants who challenged the market dominance of major U.S. brands such as Levi's. The Diesel brand story is one that evolved from unexpected origins in Molvena, a small town in the north-east of Italy, to be a global force.
There, in 1970, the 15 year old Renzo Rosso, the brand's founder, attended his nearby technical college where he learned about textiles and clothing design and construction. He began experimenting with his mother's sewing machine to adapt existing products.  There's a story that a friend gave him some American jeans and he tried to give the legs a bell bottom. This was the first apparel created by Rosso, and soon his mind was brimming with ideas to design and sell them.
Rosso was given an opportunity to work in Goldschmidt, a leading brand of jeans at that time. Adriano Goldschmidt recognized Rosso's talent, and in partnership they formed Diesel in 1978 to channel Rosso's creativity and drive. He was a new talent in a new market that had only just transformed denim to high fashion. At a time when fashion and technology were thriving at an incredible pace, Renzo Rosso's prime idea was to establish Diesel as a truly authentic brand in the fashion world, pursuing the latest trends yet remaining a timeless classic. He always stayed true to its roots.
Today, after more than 40 years of ups and downs, the brand boasts an annual turnover of €1.3 billion.
Innovation and Expansion
Diesel was thus a fledgling European brand in a global denim market dominated by established U.S. brands. Diesel launched its first ever men's clothing series in 1979. Just after two years, the brand began doing business outside Italy. By 1984, Diesel also started a children's line. 
However, what was going to become the Diesel branding story really began making headlines when the partnership with Goldschmidt ended in 1985 and Rosso took overall control. He welcomed young and creative artists who shared common aesthetics to create something that reflected them and their ideas. This novel approach revolutionized mundane fashion ideas of the time and became Diesel's signature approach. 
In 1989, Diesel introduced its first female collection. From this point onwards, Diesel began gearing up to target international audiences and planned its first foreign promotional campaign.
Attention grabbing advertising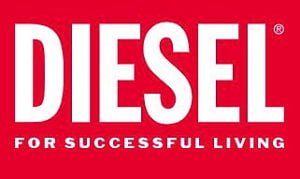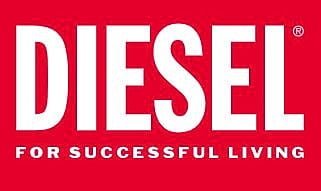 In 1991 Diesel released its "For Successful Living" advertising.  Now, the brand would not only be highly regarded for its creative clothing line but also its interesting advertisements that captivated everyone with its unique sense of humor. Sometimes, it garnered praise and the other times a little backlash, but Diesel branding never failed to grab attention.
In keeping with its long term strategy of association with new trends, Diesel took a key position as one of the first interactive advertisers on the PlayStation Home platform, which launched in 2008 to PS3 users across the globe. Home allowed users to interact, communicate and share experiences together as a ground-breaking 3D social gaming community. Diesel offered its latest men's and women's designs through the platform as avatar clothing.
Diesel branding has retained the For Successful Living tagline across its advertising and in-store.
International acclaim
Diesel opened its chain of first ever international stores in New York, Rome and London in 1996. In 2000, the brand gained Staff International, an Italian producer and distributor of global design labels. In 2002, the company acquired a majority of the shares of Maison Martin Margiela, and went on to extend the brand across bags, sunglasses and other accessories. This began to be a pattern, extending brands from clothing to represent a  whole lifestyle.
Diesel had become one of the brands in the OTB Group (Only The Brave) in 2002. Diesel's founder Renzo Rosso commenced buying other fashion companies under the OTB umbrella.
The OTB Group built a reputation for building global brands that embody the true spirits of passion, creativity and innovation. Through global collaborations with top-rated brands, Diesel rose from a jeans brand to serve individuals who wanted to project a whole lifestyle rather than just clothing. 
In 2007, Diesel partnered with L'Oréal to launch a unique line of fragrances. Diesel has also collaborated with Adidas to create Denim. Another notable accomplishment for Diesel was the launch of its premium Diesel Black Gold in New York's Fashion Week. 
In 2019, further collaboration with Sony Computer Entertainment Europe allowed Diesel to gain a presence and sell its designs in the virtual space of Sony's PlayStation, in "Days Gone." Diesel's accompanying collection included a denim jacket, a denim vest, four t-shirts and a baseball cap. The denim was partially distressed and graphically treated.
Rosso blinked
In all these forty years of a great journey, the Diesel brand story managed to leave a mark on the fashion world that conveys its core values and brand success.  These core values of Diesel became the title of the fashion book that records their rebellious story: 5D: DIESEL, DREAM, DISRUPTION, DEVIATION, DENIM. 
Though it's almost as if working on the book and the number of varied collaborations with other brands made Renzo Rosso feel the job was done, and he took his eye off the ball. Diesel branding lost its value among its audience and the company nearly went bankrupt in 2019. Rosso confessed that at the age of 64, he had been distracted with other brands and had left Diesel itself in the hands of other managers. 
Rebuilding Diesel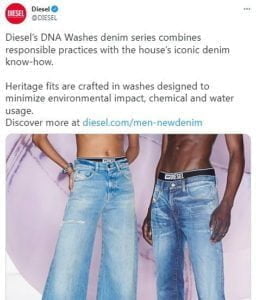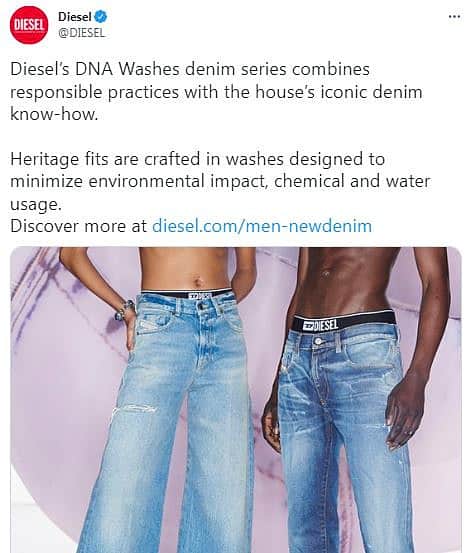 As a consequence, the brand needed to restart its engine and reinvigorate itself. The brand retained its core strengths by being youthful and creative. At the same time it had to incorporate some new trends like growing concerns over sustainability, a new theme adopted to help restore its profitability and growth.
As a part of an innovative sustainable strategy, its creative director Glen Martens launched a new collection featuring distressed (looking like recycled) denim. In September 2022 Diesel hosted a record-breaking fashion show in a Milan arena that drew the attention of over 5,000 spectators. Thousands more gathered outside, just to be there! Vogue Magazine said that the Diesel branding is resonating with "youth embodied by the idea of democratic luxury." 
By 2030, OTB says its operations will be carbon neutral. To help achieve this goal, it has several circularity initiatives through Diesel, including a jeans buyback program and Diesel Second Hand, a resale business available in Milan, Florence and Rome. There are plans to expand these schemes to other countries.
OTB has also embraced the metaverse, with a new business unit dedicated to developing products for the virtual world. Diesel's Spring/Summer 2022 collection included its Prototype sneaker, which is planned to eventually be available as a limited-edition non fungible token (NFT). Even the future will one day be part of the Diesel brand story.
With such creative strategies and innovative approach to fashion,sustainability and technology, the Diesel brand story looks like it is regaining its glory in the fashion kingdom.
We have a Fashion award, the Boldest Fashion Tech category, in the global BOLD Awards. This category recognizes the technology applications in fashion. This may include, but is not limited to: production, consumption, retailing, merchandising, and logistics. You can submit your entry now and come back to work on it up to 31st December 2022. A round of public voting in January 2023 will shortlist nominees in each of 30 categories, and a black-tie award ceremony will be hosted by the H-Farm innovation hub at their campus near Venice, Italy, on 31st March 2023.