Real estate is the world's largest asset class, worth trillions. Yet the sector as a whole remains comparatively digitally resistant and stubbornly analogue when compared to other sectors like retail and manufacturing. Proptech developments at the convergence of fintech, ecommerce, metaverse, design and smart cities are boosting uptake. It is a new BOLD IV Awards category. Online real estate agents, mortgage lenders and smarthome tech target B2C markets; B2B providers service government agencies, local authorities, and construction-related and building design companies.
Crowdfunding platforms provide a proptech/fintech marketplace for investors to be involved in projects that were previously restricted to HNWIs and institutional investors. Overall it's a heady mix of proptech developments that are scoring innovative advances. Let's start with real estate crowdfunding.
Real estate crowdfunding
In the past few years this has become a more complex and nuanced sector, with opportunities for all sizes of developer and investor. Its wide scope ranges from investing in or lending to building projects of a single residence to major developments. Either way, the investment mechanisms are the same.
Developers set up a bespoke company to ring fence its operations and investments. They may choose to either sell equity in the company to investors, or to take loans (maybe through a bonds scheme) with pre-set interest rates, repayment dates and delay penalties. If for some reason the company is unable to complete the development the investors or lenders at least have the safety net of the underlying real estate value.
The scope and scale of real estate/property crowdfunding platforms begin at the lower level with Simple Crowd in the UK. It offers investment or loan opportunities for backers whose investments start at £1,000 towards refurbishment or new build projects, and the platform's maximum raise target to date is £2.1 million.
At the top end of the market is Cardone Capital in Florida, U.S. According to a Crowdsourcing Week blog it claims to be the world's largest real estate crowdfunding platform. It offers "everyday investors" opportunities for returns from institutional-grade new build developments of up to 500+ units. Over 10,000 investors have so far provided $880 million, $210 million has been paid out, and the current assets under management are valued at over $5 billion.
As well as investors who have disposable income they want to put to work, individuals who may lack adequate resources to buy their own property, or simply prefer to remain more mobile, can use crowdfunding as a means to invest and enjoy real estate levels of ROI.
A new platform, opening a new market, is Elevate.Money in the U.S. They buy income generating commercial properties and offer its investor network fractional investment opportunities. Dividends are paid on a monthly basis. The latest acquisition is a 20 year lease on a fuel station and convenience store in South Carolina. Elevate is growing fast: it already has a network of over 13,000 investors and has more than $4 million of assets under management.
B2C Proptech
Home buying and selling
Online real estate agents completely disrupted the marketplace at a time when digital natives reached an age to buy their first homes. These buyers wanted their home-buying experience to match the more time efficient online procedures they had become used to. Also, whereas estate agents used to be the sole information gatekeepers, there was more information available, instantly, from a multitude of sources. Top US platforms include HomeLight, Redfin and Opendoor. Top UK platforms include Emoove, Purplebricks and Zoopla.
Though new proptech development startups in the residential property sector are looking to change the business model, rather than just streamline and speed up the ways things were done before. Here are two of them.
Italian startup Casavo offers free appraisals to sellers, generates quick offers, buys the properties itself and then renovates them to sell at a profit. It uses a dynamic pricing model to evaluate the post-refurbishment values based on data it has on similar properties. There is a good supply of many properties that have massive potential for refurbishment after sitting either derelict and/or haven't changed hands for decades. Casavo then sells the modernised properties with immediate access. It has just raised €400 million in Series D funding and plans to expand in France.
Launched in 2021, UK platform Proportunity provides homebuyers with all the information they need to search for their new home, and also offers a loan of 10% to 25% of property values so that the buyers need to pay just a 5% deposit. Proportunity takes an appropriate share of equity in each property, and is on its way to becoming the largest real estate investor in the UK. The proptech/fintech startup has so far raised over £115 million of debt and equity investment funding from leading VC funds, and in June 2022 sold over £1.8 million of shares through equity crowdfunding for its clients to share in the investor benefits.
Mortgage loans
The faster, lower cost and more data-driven services provided by online real estate agents set the tone for the next stage of being a home buyer: applying for and getting a mortgage. IT-driven mortgage lenders cut the paperwork for everyone, use more sources of information to check each applicant's risk level, and do it faster and at lower cost. They do not have the legacy costs of branch offices, employee pension scheme liabilities, or systems and procedures that are merely digitised versions of their original analogue ones.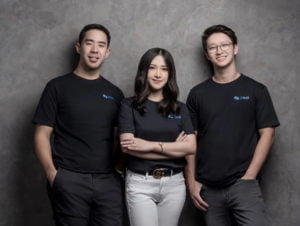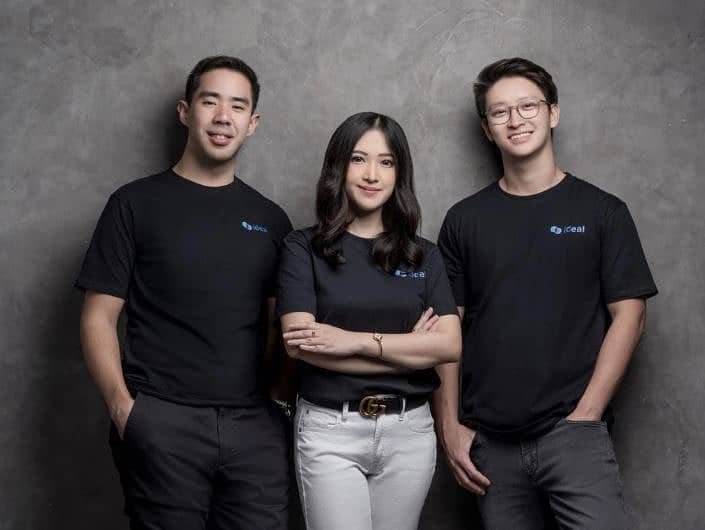 In Indonesia, the proptech/fintech startup IDEAL's  platform has simplified the mortgage application and approval process by letting users compare mortgage products, and apply for them, from multiple lenders at the same time. The founders claim there is a clear gap in the market for larger ticket size consumer lending products offered on a user-friendly digital platform.
Smart home proptech
Smart tech sensors such as for water leaks can communicate with a phone or any other mobile device so that issues can be handled promptly before they are a bigger and more expensive problem.
Sensors in any room can turn off the lights when they're not in use, and smart gadgets can monitor the indoor temperature to avoid excess power use when premises are temporarily vacant. This is particularly imporatnst with the current energy crisis and massive fuel cost increases.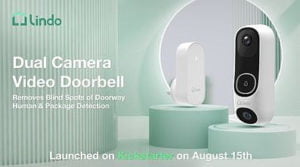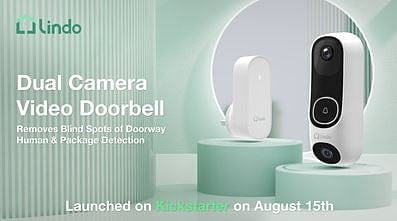 Connected fire alarms and smoke and carbon monoxide sensors are key personal safety devices. Smart door locks with cameras provide added security from intruders and can help with  managing deliveries when away from the home. Relevant proptech developments can sometimes be found on reward-based crowdfunding platforms that provide the manufacturers with an efficient and effective direct-to-consumer distribution channel.
B2B Proptech
Proptech takeup has been slower in the business-to-business sector. The digital natives had to develop beyond being consumers buying their first homes to being influencers and decision-makers in construction and related built environment enterprises. "The digital revolution of the built environment is happening slowly but surely," according  to a top British firm that provides engineering consultancy, design, and planning services for clients in the built environment. Remote working and social distancing during the pandemic also boosted the take up of proptech.
Property rentals
All the smarthome techchnology previously mentioned has numerous benefits for property rental companies on a commercial scale. Whilst each of these examples are readily available, building management companies want a streamlined service with a single dashboard, rather than have to handle it all piecemeal. Perhaps they need a smart home tech equivalent of Hubspot?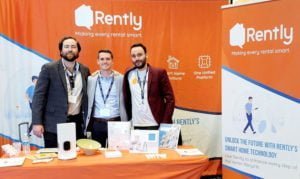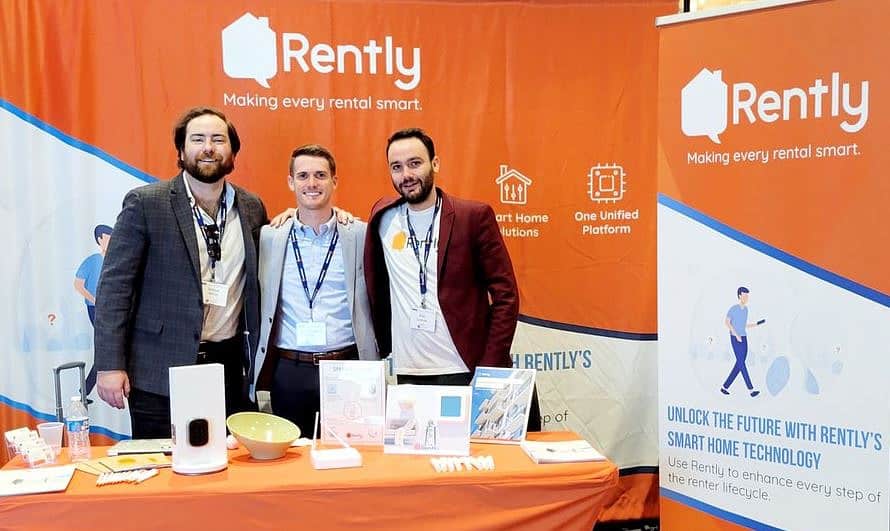 Proptech can also speed up re-leasing vacant units, reducing expensive void periods, if repairs and maintenance have been carried out promptly rather than accumulated. Rently provides a service for building owners and letting agents to first instantly match their properties with renters who qualify based on credit score, income, eviction, pets, and other pre-screening questions.  Next, it enables qualified prospective renters to take self-guided tours with access via lockboxes, bluetooth locks, or proprietory keyless locks. Using Rently can increase self-guided tour traffic by up to 29%, while reducing time on market by 75%.
Building twinning
Digital twinning uses data from a variety of sources, including drones, sensors and AI algorithms, to create a digital version of a building. A building "clone" enables testing various scenarios by running simulations. It is used on existing buildings, though when any improvements are found to a building and/or the way it is intended to be used at the planning stage it is far easier and less expensive to make alterations than during or after actual construction.
HOVER, founded in 2011, is a proptech company that uses smartphone photos to create digital twins with 3D data. It helps contractors simplify their bidding process and stand out from the competition with inspiring, visual representations of the finished product. In November 2020 HOVER completed a $60 millon Series D funding round.
Retailers can use a twin to identify the best places to locate queues, or even the ideal sales floor temperature to optimise customer purchasing. When building healthcare facilities, digital twins can be used to check where best to place exam rooms and identify staffing needs. Factory owners can optimize production line capabilities and capacities. Also, ODIN, an AI-based proptech application from Digital Energy, helps predict and avoid potential industrial accidents. 
Digital twinning also has benefits of testing how to reduce a building's carbon footprint to improve levels of sustainabilty
Planning permissions
Similar to many countries, the UK has a housing shortage. Much of the blame is put on non-uniform antiquated planning permission systems used by local authorities across the country. This means that developers and builders have to deal with numerous ways to apply for permission to build. It also leads to construction delays and project funding insecurities in case any investors back out.
The UK's second largest city, Birmingham, is working with Urban Intelligence to speed up its approval processes, using proptech that applies AI to a database of all previous applications and matching them against available sites that could be built on. This much more speedily identifies the most relevant sites to develop, and shortlists what types of homes are most likely to fit the local conditions and requirements. 
Using Urban Intelligence's analysis software, Birmingham City Council will be able to assess nearly 330,000 sites, which is almost 300 times more than the 1,160 sites that were assessed in 2017. It also reduces the time it takes to submit the shortlist of sites that will be retained, from eleven to three months.
These updates are a snapshot of recent proptech developments. What can you share with us to add to our insights? And if you operate in the proptech space, check out entering the BOLD IV Awards, with its final award ceremony in Venice, Italy, in March 2023.