Awards and competitions recognise innovators and thought leaders who are breaking new ground in their sector. Yet they are also possibly under-acknowledged as a way to gain industry recognition and enhance a reputation. Entering award schemes also provides a great opportunity to expand contacts, join new communities, find inspirational collaborators, and be a part of new trends. Remember the old saying: "We can go faster alone, but further together." With these thoughts in mind, this article reviews the top five awards for the eGaming and eSports sectors in the world, with a bonus inclusion of the BOLD Awards.
 

The Game Awards
The Competition
The Game Awards was founded in 2014 by media entrepreneur Geoff Keighley.  They recognise and highlight creative and technical excellence in the global video gaming industry, people and organizations that improve the wellbeing of communities they serve, and showcase young talent that represents the future of the egames medium. Through bringing together a diverse group of game developers, game players, and notable names from popular culture, these awards celebrate and advance gaming's position as an immersive, inspiring and challenging form of entertainment. It is certainly one of the top 5 eGaming and eSports awards.
Entry and judging processes
Nominees for most categories of The Game Awards are chosen and put forward by an international jury of over 100 global media and influencer outlets, selected on the basis of their track record of critical video game evaluation. Specialized juries also convene for other categories including eSports, accessibility and best adaptation. Each voting outlet completes a confidential, unranked ballot based on the collective and diverse opinion of its entire editorial staff, listing out its top five choices in each category. Ballots are tabulated, and the five games that appear on the most ballots are put forth as nominees. In the event of a tie, six (or more) nominees will be announced in a category.
Winners are determined by a blended vote between the voting jury (90%) and public fan voting (10%). Fans can vote for their favorite games on TheGameAwards.com. Fans in China can vote on the winners via Bilibili. The 2022 fan voting closed on Wednesday, December 7.
The Game Awards were streamed live on Thursday, December 8, 2022 from the Microsoft Theatre in Los Angeles, and was made available for free to all major streaming services.
Cost
There is no formal submission process, and no game developer or publisher pays to have a game considered for nomination. Consequently, there are no entry forms or fees required — all games are automatically eligible for nomination.
 

Esports Awards
The Competition
The Esports Awards aim is to ensure that success and achievement in esports are celebrated globally, and to boost the integrity of the whole sector. Since 2016 they have showcased top class performance and innovation from, amongst others, the players, teams, media, hardware providers, games, events, and personalities across numerous categories (34 of them in 2022).
Entry and judging processes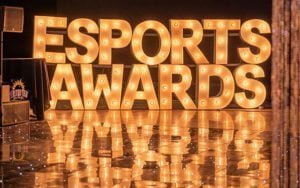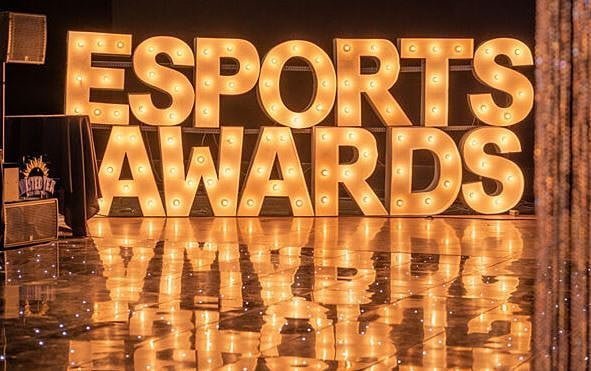 There is a public nomination process, followed by a period of public voting. For each category, a judging panel uses the public nominations as a basis to form lists of finalists for each category. As the year progresses, numerous discussions take place over each category and each individual will vote for their winner in the various categories. This is then weighted with the public votes (which account for 25% of the total) to determine the final winner for each category.  
The 2022 black-tie award ceremony will be broadcast live from a Las Vegas theater on December 13, 2022. General admission tickets to the 5,000 capacity venue were available from $50.
Cost
The Esports Awards are supported by corporate sponsorship. Entries are nominated by the public, and there is no fee for the nominees.
 

Italian Esports Awards
The competition
The Italian Esports Awards, which held an award ceremony in Turin in October 2022, were the first Italian award scheme entirely dedicated to operators in the esports sector. The event could be followed through live streaming.
The event was organized by the Italian Interactive Digital Entertainment Association, which represents the video game industry in Italy. The award ceremony was the conclusion to a two-day video gaming conference with talks and panel discussions.
Entry and judging processes
Nominations and winners are selected by a jury composed of seven industry experts from different fields: journalists, media broadcasters, influencers and operators. There were nine award categories. Eight were decided on by an expert jury, and a ninth was decided by live public voting during the ceremony.
Cost
There were no fees for the nominees. The event was part of an industry-wide marketing effort to promote the Italian video game industry.
 

The Tempest Awards
The competition
The Tempest Awards recognize the best work in North America from the esports industry's most innovative companies and executives. Awards go to established operators and newcomers alike, and feature categories spanning production, marketing, talent and technology.
Judged by key members of the esports community, the awards serve as North America's top honors for the brands, the teams, the leagues, the players and the business leaders driving the competitive gaming industry today.
In October 2022, approximately 300 guests attended the EBS 2022 Tempest Awards at the HyperX Esports Arena in Las Vegas. Winners were celebrated across 25 categories.
Entry and judging process
Each candidate submits their own entry. A panel of judges review and score submissions, which are then reviewed internally before deciding a winner in each category. Submissions are scored based on their overall execution and concept, tactics, overall design and presentation, overall impact, and their originality and creativity.
Cost
Submitting an entry in 2022 cost $450.
 

BAFTA Games Awards
The Competition
The British Academy of Film and Television Arts (BAFTA) is an independent arts charity. Their televised annual award ceremony is a UK version of the Oscars, and celebrates key accomplishments and innovations across film, television and games. In 2022 there were 18 Games categories. It is well worth its place in the top five awards for the eGaming and eSports sectors in the world.
Entry and the judging process
Entries for the 2023 BAFTA Awards can be submitted by developers, publishers or anyone involved in the production and/or promotion of egames. Entries for the 2023 Games awards closed on November 2, 2022. BAFTA Games Members, who are industry professionals, begin voting on December 12, and finish by January 2, 2023. On January 4, the shortlisted Games nominees will be asked to supply copies of the games involved to the judges. The judges will make their decisions between February 12 and 17, and winners will be announced on March 2. The award ceremony is scheduled for March 30, 2023.
There is also a Best Game of the Year category, exclusively voted for by the public.
Cost
There is a significantly reduced rate of £120 for entrants making their first entry if it is submitted within 30 days of the release date of their game. Games entered outside of their release month are charged £288. Games can be entered into multiple categories where eligible
BOLD Awards
Here is your bonus on top of top five awards for the eGaming and eSports sectors in the world. The global BOLD Awards cover 30 categories of digital industry, including business sectors such eGaming and eSports, Fintech and Cybersecurity. As well as some of the technology that makes them possible, such as AI, Blockchain and Robotics. There is also a category for The BOLDest Young Achiever aged under 25. The BOLD Awards were co-founded in 2019 by the global Crowdsourcing Week platform and the Italian digital education and innovation hub H-FARM.
Entry and the judging process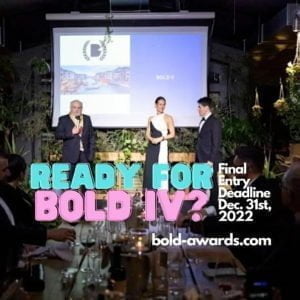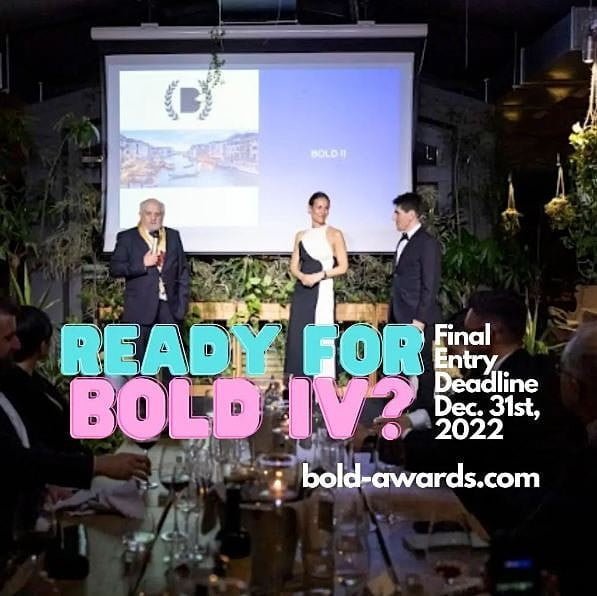 Entries can be submitted from May to the end of December each year, and entered in up to three categories for the price of one entry. By January 17th, a round of public voting will shortlist up to seven nominees in each category, which gives entrants an opportunity to galvanize their supporters. The shortlist in each category then goes before a panel of international judges. Public votes and the judges' appraisals count for 50% each in determining the category winners.
The award ceremony is a black-tie event hosted by H-FARM on their 51 hectare campus located between Venice and Treviso, in Italy. Category winners are not announced before the event, and must attend to receive their award. In 2022 there were attendees from 50 countries.
Attendees can connect and network with judges, category sponsors, the Crowdsourcing Week and H-Farm teams, and of course each other. Non-entrants may apply to request an invitation to attend here. 
Cost
Early entries receive a sliding scale of discounts, whereas entrants in the final submission month, December 2022, pay the full processing fee of €187. Entries can still be submitted for the BOLD IV Awards up to January 12, 2023. One entry can be submitted in up to three categories.