Advances in technology offer a new generation of entrepreneurs opportunities to disrupt established business sectors. And they don't come much more established than the insurance market. New startups can immediately embrace and benefit from faster access to a wider range of data to evaluate risk, and digital distribution channels to deal directly with customers. This reduces the need for go-between brokers, which speeds up the whole process and reduces costs. Some startups also develop products and service offerings beyond just a digitized equivalent of legacy systems, and bring something genuinely new to the game. In the field of medical insurance, one such insurtech startup is PassportCard, headquartered in Hamburg, Germany.
What is PassportCard?
It is a private medical insurance and international travel insurance provider. Insurance is traditionally a price driven market characterized by low engagement, and in this environment PassportCard has turned the claims process upside down. Customers insured with PassportCard use a prepaid card to pay health service providers, eliminating the need to submit invoices or pay deductibles. There is no paperwork or long waiting times while claims are processed, and no nasty surprises such as rejected claims that leave customers out-of-pocket.
How does it work?
The first important factor is there is no shortlist of medical service providers that card users are restricted to seeing, any provider that accepts payment by MasterCard is acceptable.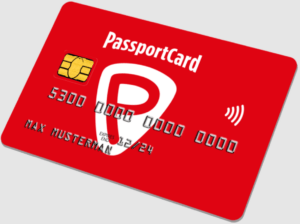 PassportCard users contact the insurer before their medical appointment, and the insurer's system calculates the amount to be charged for the required services, based on data from 30 years of experience in insurance claims from around the world. Alternatively, some benefits may be based on flat rates as set out in the insured person's policy. 
The cost of the medical services are then loaded on to the insured person's PassportCard which they use to pay for their consultation or treatment. This is far easier for them than paying with a personal card, claiming back the cost, and waiting to see what happens while they are out-of-pocket.
This service excludes the USA.
When did PassportCard start?
PassportCard was founded in Israel in 2012, and went on to capture 40% of the travel insurance market. Their refreshing approach that became so popular was to not treat claimants as potential fraudsters. They provided a service that was a little bit more expensive, but give their customers added ease of use, with no personal outgoings, and hassle-free peace of mind at times when they are vulnerable due to a mishap. 
In the event of a medical incident, the customer called the company's service centre, and their PassportCard was activated. The customer went ahead and paid with the credit card, and the insurance company dealt directly with the medical service provider without involving the customer.
The move to Germany
A decision was made to more prominently focus on long-term medical insurance rather than travel insurance. For its first overseas expansion, PassportCard decided to enter what is considered to be the most competitive insurance market in the world, in Germany. If they could grow in Germany, they would be reassured they could operate almost anywhere. They took with them their refreshing commitment to pay claims speedily and with minimum fuss.
They were 15 days away from launching when the Covid pandemic was formally declared, and decided to go ahead. It proved to be a time in which they could definitely show they were on the side of their customers.
PassportCard forged a partnership with German insurance provider Allianz, which is the largest branded insurer in the world. Reasons for this included giving their customers trust and confidence in their service.
The quality of service is maintained by a 24/7 call centre service, because claimants could be anywhere in the world, and needing help at any time of day or night. The company has an aim to ensure its call handlers remain happy in their work, so that this influences their behaviour when they are dealing with people who may be under high degrees of stress.
PassportCard's pre-loaded payment cards and 24/7 service are their USPs (unique selling points) that make them stand out from their rivals.
Target customers
PassportCard's ideal customer is anyone relocating to work abroad, and popular destinations for German executives to be sent to include Spain, France and the United Arab Emirates. Their ideal customers also include digital nomads, working outside of their home country from series of various locations anywhere in the world through the internet. In the words of Eithan Wolf, CEO Europe at PassportCard, all their cutomers want is to pursue their dreams without things being ruined by a medical case.
Relocated executives working and living in countries where they may not be familiar with how the local medical services operate will be even happier with PassportCard's holistic approach.
PassportCard is also targeting a corporate audience of companies that send staff abroad, operating in sectors such as IT and Aviation. Within those companies they may target key management decision-makers and their HR teams. They also want to raise brand awareness among staff with potential to be relocated in order to create demand for PassportCard.
Outside Germany and Israel they now have offices in the UK, Cyprus and Australia.
PassportCard won the BOLD Awards Insurtech Category in 2023, based on a round of public voting and the assessment of an international panel of judges. Entry is now open for the 5th edition of BOLD Awards, covering 33 categories of digital industry and tech. Each submission can be entered in up to three categories.